7 Must Haves For Serious Tea Drinkers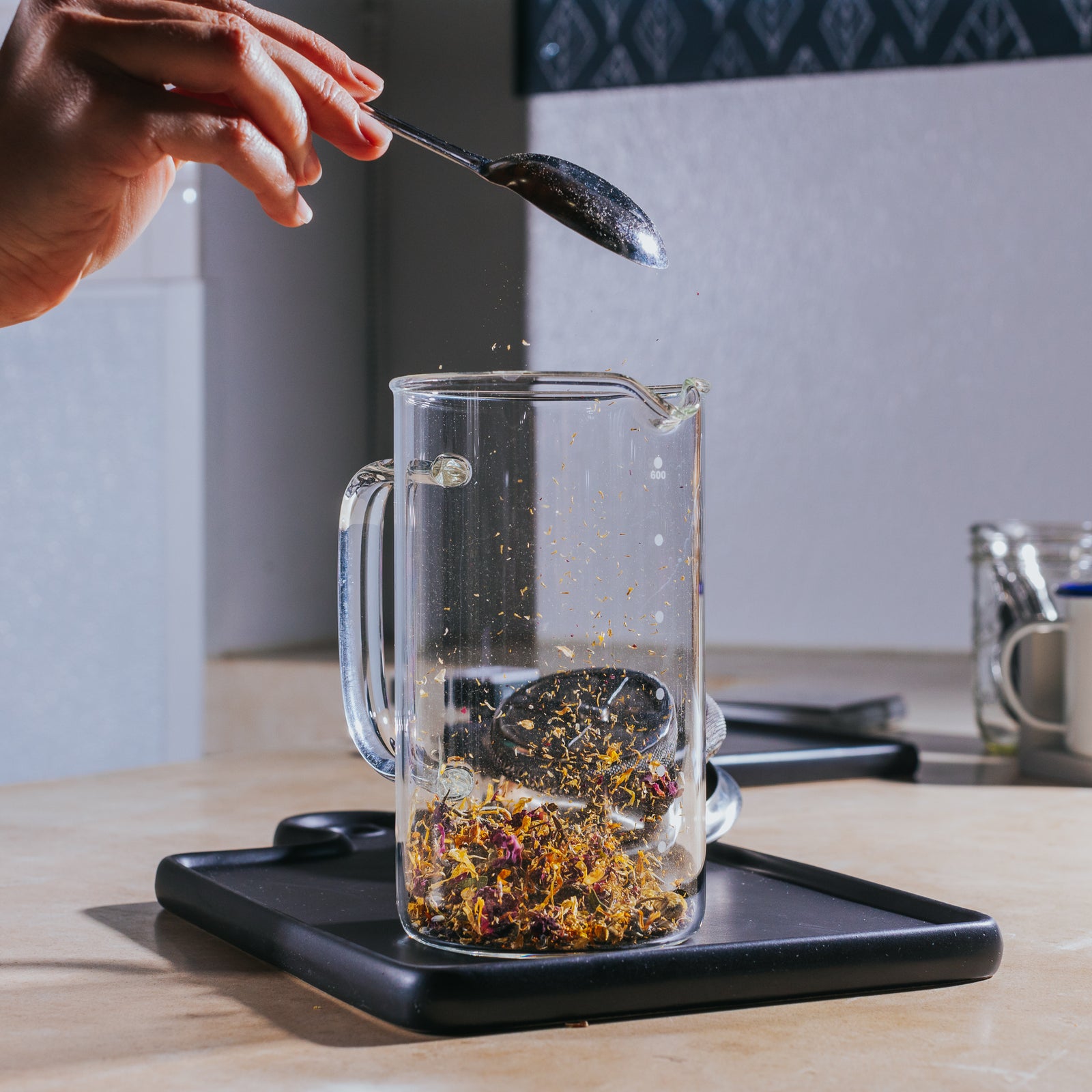 Whether you're running a quick brew or perfecting a world-class steep, the right tea should taste great. That's because the most important stuff happens at the sourcing and blending phase. (That's why it's our specialty!) If you're not ready to dive into serious tea drinker mode, that's ok! Your tea will still taste great, and we have tons of resources for new and intermediate tea sippers. But if you want to take your love of tea to the next level, check out our 7 must haves for world class tea flavor.
If you're tea sippin' in style, you need to start with great tea. That means pure ingredients from the best sources, rigorous handling procedures, and blends with perfectly balanced flavor profiles. It also means finding the right tea for your unique taste preferences. There's more than a couple of flavor options out there, and they even span into the separate tisane category.

Chances are you have a good idea of what general flavors you like (at least we hope so!). That's a great starting point, but you can also see what teas you match with this fun and fast tea quiz.

If you want to give your taste buds a flavor party now, you can jump right to the most popular Teas and Tisanes. And be sure to tell the waistline that it's not invited, because these teas are calorie free.
Y'all, the tea ball is a thing of the past. Enter the Folding Handle Tea Infuser. Infusers like this one are for the modern tea drinker. The extra-fine stainless-steel infuser prevents leaves from escaping into your cup (a big no-no), while also providing enough room for all varieties of tea to expand (something that little ball just can't do). This guy also has folding handles, which comes in quite handy. 
The handles are long enough to allow this infuser to sit nicely in almost any size cup, and fold down into a carrying case. That makes it easy to both travel and wash. Did I mention you could put tea into the infuser, inside its case, and then you have everything ready to go to pop into your cup at work? Oh, and that lid for the carry case doubles as a drip tray for the infuser. It is also dishwasher safe. Yes, it is beautiful.
Great tea starts with great water. Without a doubt, the best water to use would be quality spring water with a neutral pH (about 7) and a TDS (total dissolved solids) content of about 30 ppm (parts per million).

Since most of us don't live near a lovely natural spring, we use the water delivered right to our kitchen. However, not all tap water is created equal. It can have variation of pH level mineral content, along with potential contaminants. Any of these can have a negative effect on the quality of your cup of tea. Serious tea drinkers know that fresh filtered water can make a big difference.

Most people's water shouldn't be overly funky, so we recommend starting with basic filtration first. Water filtration varies from fancy reverse osmosis, mineral adding permanent systems, to small counter-top pitchers. This Brita dispenser is a staff favorite because it can hold a full 18 cups. That way, you won't constantly be refilling it, and it's slim design means it can fit snugly in the fridge. Going with the Long-Last filter gives you 6 months of filtration before replacement. It's a great place to start your journey towards better tea!
Once you have excellent water, it needs to be the right temperature for perfect tea. First, there is no question in our mind that any electric kettle is better than a stove-top kettle. It's quicker and easier to determine the temperature with an electric kettle. 
The natural next question becomes whether to get a regular or variable temperature kettle. The obvious - but surprisingly impactful - benefit of the variable temperature kettle is always having the right temperature for any given tea. So if you jump between flavor categories like black, white, and herbal, we definitely recommend a good variable temperature kettle.
Our team makes a lot of tea (no surprise there), and we've fallen in love with the Bonavita Glass Variable Temperature Kettle. Watching the water bubble through the glass kettle is strangely soothing and has the important bells and whistles without going overboard. Many of the presets for other variable temperature kettles can get funky, which defeats the whole point of these devices. You can choose any temperature with the Bonavita, and it also allows you to heat and hold a temperature for up to an hour. 
The kettle closes out with a gooseneck spout—and if you've never used a gooseneck spout before, it's amazing. Never spilling almost-boiling water is a big plus, but you just feel so classy when pouring. Trust me, once you switch to this kettle, you won't ever go back.
Ok, so why does the serious tea drinker need multiple brew-wares? Because you are makin' tea every which way and satisfy your wily tea whims! The Simple Brew Teapot is perfect for making a cup (the 400 ml size) or pitcher (the 1000 ml size) of iced tea.
The key is that you can make the tea concentrate inside the simple brew teapot and pour the freshly brewed tea over ice. This is way easier than brewing with your folding handle infuser and trying to carefully drop your ice cubes into the hot water. Recipe for disaster, my friends.
There's a second great reason to have a simple brew teapot on hand--teas that need something extra to properly brew. Specifically, teas that are extra fluffy (many white teas and florals), need room to roam to release their flavors (like Iron Goddess), or can be re-steeped (any Pu-erh lovers out there?). Who's ready to steep?
Another awesome teaware for the iced tea lover is the Flash Chill Iced Tea Maker. Sure, it is marketed as a great way to make iced tea, which is true. The reason we love this little guy is for cold brewing! It's made of BPA-free plastic and has a watertight lid. Yep, that means you can store it safely in the fridge upright or sideways. 
The removable infuser is big enough to allow leaves to unfurl and release flavor, and it is also fine enough not to allow the leaf particles to slip through into your drink. It's also dishwasher safe. Cold brew lovers rejoice!
So, you say you're a serious tea drinker. Do you take your tea everywhere you go? No? Well time to upgrade, my friend! The Urban Tea Tumbler is not only super stylish with the glass + cork + stainless steel (and don't forget the handsome Tea Sip logo), but it is also super effective. Great for brewing on the go—hot, cold, or iced. Check out this video showing off how we brew it.
Shop Tea Sip Teas and Tisanes now and get sippin'.
---
---