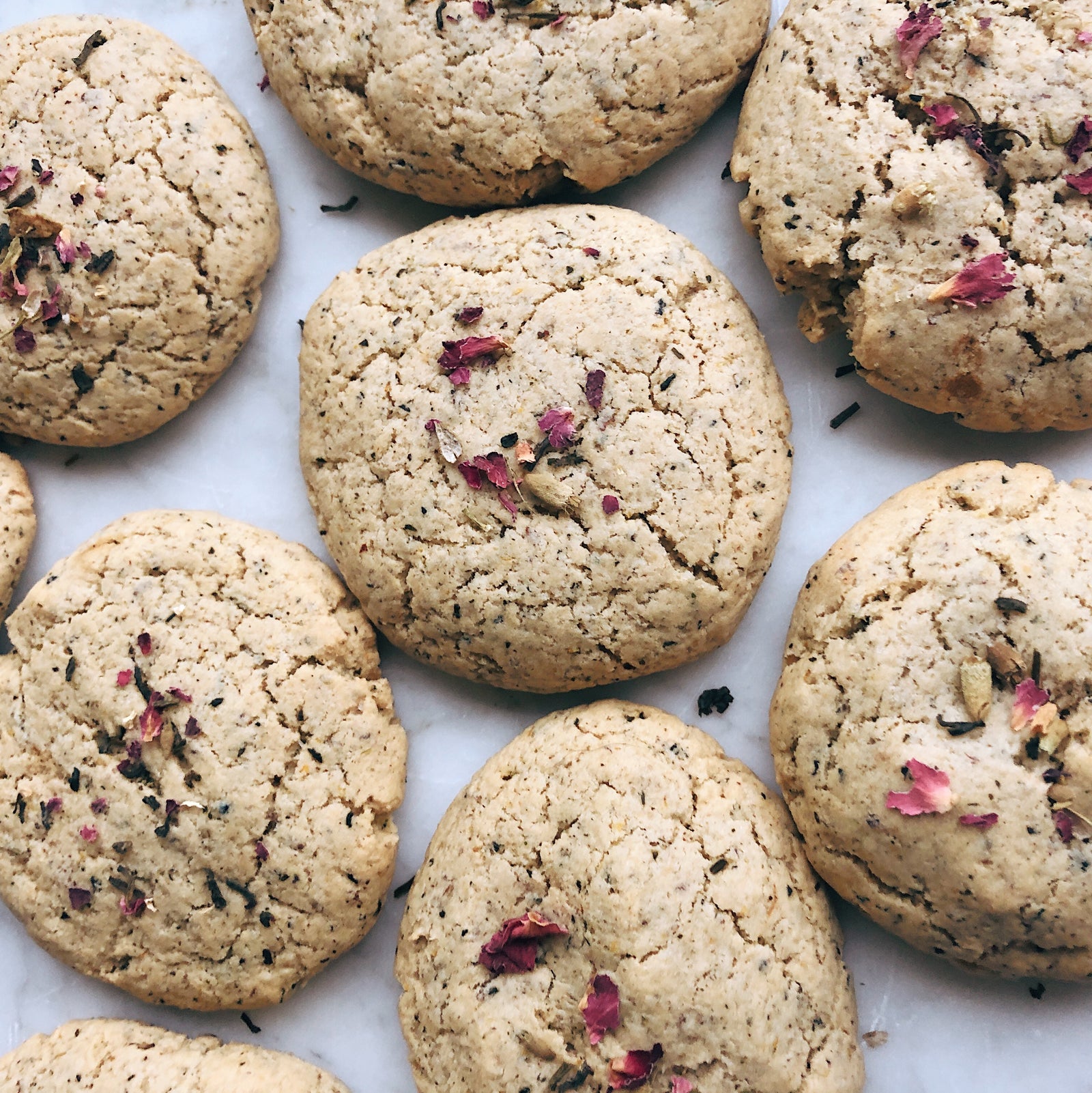 There's something about baking that helps soothe the soul... and the sweet tooth! It's been fun to experiment with some of my favorite recipes and teas to see what scrumptious delicacies I can create [insert chef's kiss here]. Since the flowers outside have been blooming like crazy, I decided to try out Apple Blossom, our floral green tea blend, with one of my favorite gluten-free, vegan cookie recipes. The result did not disappoint! These cookies are bursting with apple and floral flavors and spoiler alert, they are super addicting. I dare you to have just one!
Ingredients:
2 1/3 cup gluten free flour (I used Bob's Red Mill Gluten Free 1 to 1 Baking flour)
1 tsp baking soda
1/2 tsp salt
1/2 cup vegan butter
1 cup packed brown sugar
1 flax egg (1 tbsp flaxseed meal + 2.5 tbsp water)
1/3 cup maple syrup
1 tsp vanilla
3 heaping tbsp of Apple Blossom green tea - Shop Apple Blossom Now
You'll also need:
bowl
spatula
whisk
flour sifter
ice cream scoop or any other large spoon
mortar and pestle (if you don't have this you can use a large ziploc bag and rolling pin)
baking sheets (I ended up using two)
Instructions:
Make your flax egg and set aside.
Put the Apple Blossom tea in mortar and pestle.* Crush tea until most of it is a fine powder. Set aside. *If using a ziploc and rolling pin: place Apple Blossom tea in bag and seal out all the air. Then roll until most of it is a fine powder.
Mix gluten-free flour, salt, and baking soda in your baking bowl. 
Sift Apple Blossom powder into the dry ingredients. Save any of the larger pieces to use later for decoration. Whisk together.
Cream together the vegan butter and sugar. You can use a hand whisk or an electric one. Mix in flax egg and maple syrup until combined.
Gradually mix in dry ingredients. Mix until completely combined.
Put dough in fridge for 4 hours or overnight.
When the dough is ready, set your oven to 350

°

F and put parchment paper on your baking sheets.
Using your ice cream scoop, fill spoon with dough, then flatten with your hands and place on baking sheet. Place cookies 4 inches apart. Repeat until sheets are full.
Bake for 10 minutes and then let cool for 6-8 minutes (when doing gluten free and vegan baking you need to let the cookies completely cool so they can set).
Once cooled, decorate with extra Apple Blossom tea leaves.
Enjoy!
---