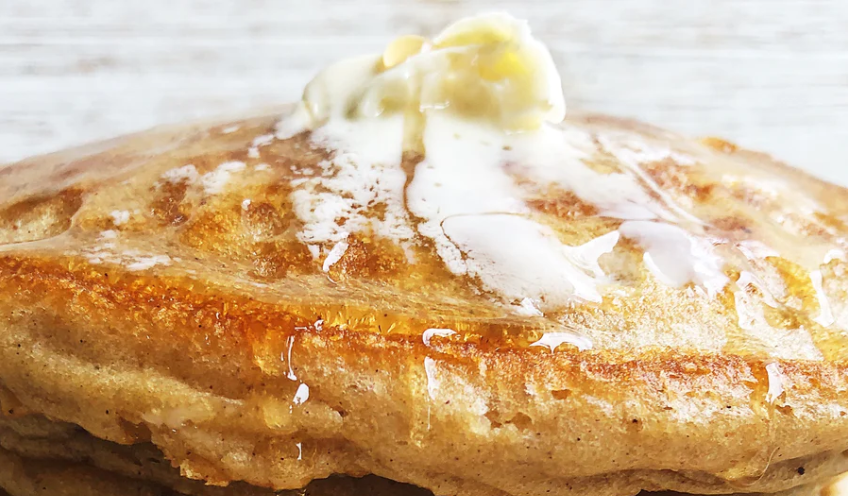 While basic pancakes are already amazing morning treat, we thought of a way to make them even better— infusing them with tea! For this recipe we chose to go with our oolong blend, Apple Strudel. The rich flavor of baked apple, nutty hazelnut, and dark oolong with nice hints of chocolate and cinnamon mixes perfectly with the warm comforting taste of a pancake. This heavenly, fluffy flapjack pairs perfectly with sweet syrup and creamy butter and is the ultimate breakfast treat. Seriously, what's not to love?! This Apple Strudel Pancake Recipe may sound challenging, but I promise it is super easy. While we use Apple Strudel in this recipe feel free to experiment with other Tea Sip blends and let us know how it goes! 
We made this pancake recipe gluten free, vegetarian, and dairy free. 
Ingredients for pancakes
1 cup pancake mix (we used King Arthur Gluten-free Flour pancake mix)
1 large egg
1 tbsp coconut oil
1/3 cup coconut milk
1/3 cup Apple Strudel tea (90 mL of 195°F water + 1.5 tbsp of Apple Strudel tea. Let cool before mixing) - Shop Apple Strudel Now
Optional toppings: fruit, butter, syrup, whipped cream

This recipe makes approximately 5 pancakes, double ingredients if needed. 
You will also need
Tea infuser 
Whisk
Pan or griddle
Directions
Step 1
Start by making your Apple Strudel tea. Brew 1.5 tablespoons of apple strudel tea leaves in 90ml (about 6 tablespoons) of 195 degree water for 4 minutes. Set aside to cool.
Step 2
Once cooled whisk together eggs, oil, milk, and tea 
Step 3
Slowly add pancake mix while you stir. Let sit for 10 minutes.
Step 4
After 10 minutes check the pancake batter, if you prefer a thicker consistency slowly add more pancake mix till desired thickness.
Step 5
Preheat stove to medium heat and add a small amount of coconut oil to grease the pan or griddle.
Step 6
Scoop about 1/4 cup of batter onto lightly greased pan. 
Step 7
Cook for about 2 to 3 minutes, when you start to see bubbles form on the top flip and cook for another 2 to 3 minutes. 
Step 8
Serve hot with butter and syrup.
Step 9
Enjoy your pancake party
Feeling like a Top Chef add fruit or whip cream for a major wow factor!