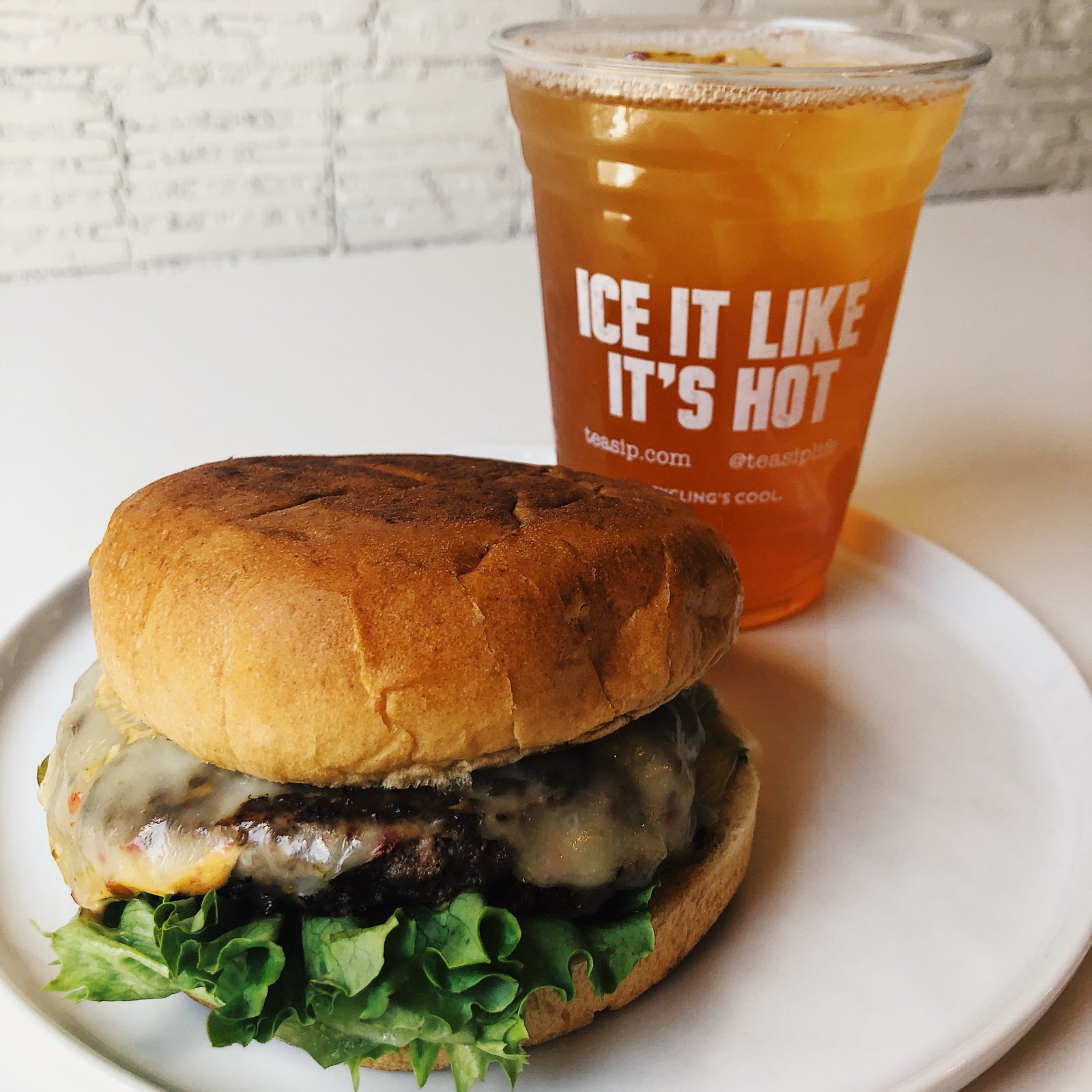 May 28th marks National Hamburger Day, and well, our Tea-m is all about a day that celebrates food - especially a day that celebrates such a classic. Admittedly, it was challenging for us to pick our favorite burger as we all immediately listed 3-5 burgers that we love. However, we all agree that burgers go great with tea, and we are here to share our love of both with you.
Check out our staff faves:
Beach Bum & Flip 'n Patties
"If you know me, you know I don't do normal. I've had A LOT of burgers in my time, but nothing beats the H-town classic, Flip 'n Patties. They perfectly fuse Phillipino cuisine with the traditional American burger. I always get their classic "FnP Burger" with akaushi beef, fried portabello, and their special sauce. Since the burger packs a punch, I love pairing it with an iced cup of Beach Bum. The combination of juicy pineapple, creamy coconut, and luscious mangos compliments the bold burger goodness perfectly. It also pairs great with a side of fries. ;) " - Tessa
Purple Haze & Freddy's Frozen Custard & Steakburgers
"There is one burger place that has my heart and that's Freddy's Frozen Custard and Steakburgers. My go-to order is Freddy's Original Double with cheese, hold the pickles and mustard. Their steak patties have a crispy crunch texture, and if you get the combo it comes with their signature shoe string fries that are NEVER soggy. When I add their seasoning salt and fry sauce to my burger, it tastes like nothing I've ever tasted before! Pairing their delicious burger with our Purple Haze oolong adds such a refreshing finish to the meal. The schisandra berry in the oolong blend adds such a complex, fruity, and unique flavor addition to my already uniquely flavored meal. This oh-so yummy tea blend keeps me chomping until I succumb to being in a food coma. Just talking about this tea pairing and burger combo is making me drool!."  - Long
Support Freddy's Frozen Custard & Steakburgers
Ceylon & Stanton's City Bites
"I really like a classic hamburger, the American in me can't help it. Stanton's City Bites has that classic burger, and they've been serving it to us Houstonians (and visitors) for decades. The bun is pillow-y yet slightly toasted, and the pickles, lettuce and onion are crisp. The tomato tastes like tomato! The patty is key here—1/3 lb of hand-formed, perfectly seasoned, fresh, juicy grilled beef. Like a good Texan, I recommend drinking an iced Ceylon alongside it. Don't be afraid to add a little sugar while it brews and top with a lemon slice; this is known as 'ice tea'. Like I told my mom when I gifted her a bag, "It's like Lipton's but waaaaaayyy better" ;) " - Emily
Spiced Peaches & Chili's
"One of my favorite burger places of all times is Chili's!! Believe it or not, their bacon cheeseburger wins my heart every single time. I love their fluffy buns and perfectly seasoned patties. For me, I think the perfect tea to drink with their burger is iced Spiced Peaches with a little bit of honey. Such a classic combo, a nice hearty burger with a southern peach tea. Can't go wrong when celebrating at Chili's!" - Claudia
Defend & Cantina Barba
"I appreciate a classic burger, but I love a burger that plays a wild card every now and then. This is exactly what Cantina Barba's Cheeseburger brings to the table. In addition to the gooey melted cheese, Cantina Barba has their own burger sauce which adds a delicious creaminess to the flavor profile, and it's topped off with zingy, house made pickles. This cheeseburger goes great with Tea Sip's Defend blend. One of my all-time favorites, this hibiscus, blueberry, cinnamon blend also has a bit of a zing, but it's bold flavor compliments the creaminess of Cantina Barba's Cheeseburger. I recommend drinking it iced! Bon appetit!" - Claire
Lemon Lime & Liberty Kitchen
"My favorite burger in Houston is the Liberty Cheeseburger Bowl from Liberty Kitchen. All of the fixing such as cheese, iceberg lettuce, liberty sauce, and egg are blended together to create perfection. Try it with a tall glass of iced Lemon Lime and your taste buds will be in heaven."  - Andrea
Strawberry Fields & Burger Joint
"It's so dangerous that there is now one open so close to Tea Sip...I'm a huge fan of spicy, so I love their Fire burger with something sweet like iced Strawberry Fields. The fruity and sweet of our Strawberry Fields helps balance the spicy from the hot peppers on the burger."  - Jess

Happy
 

Sipping!
---