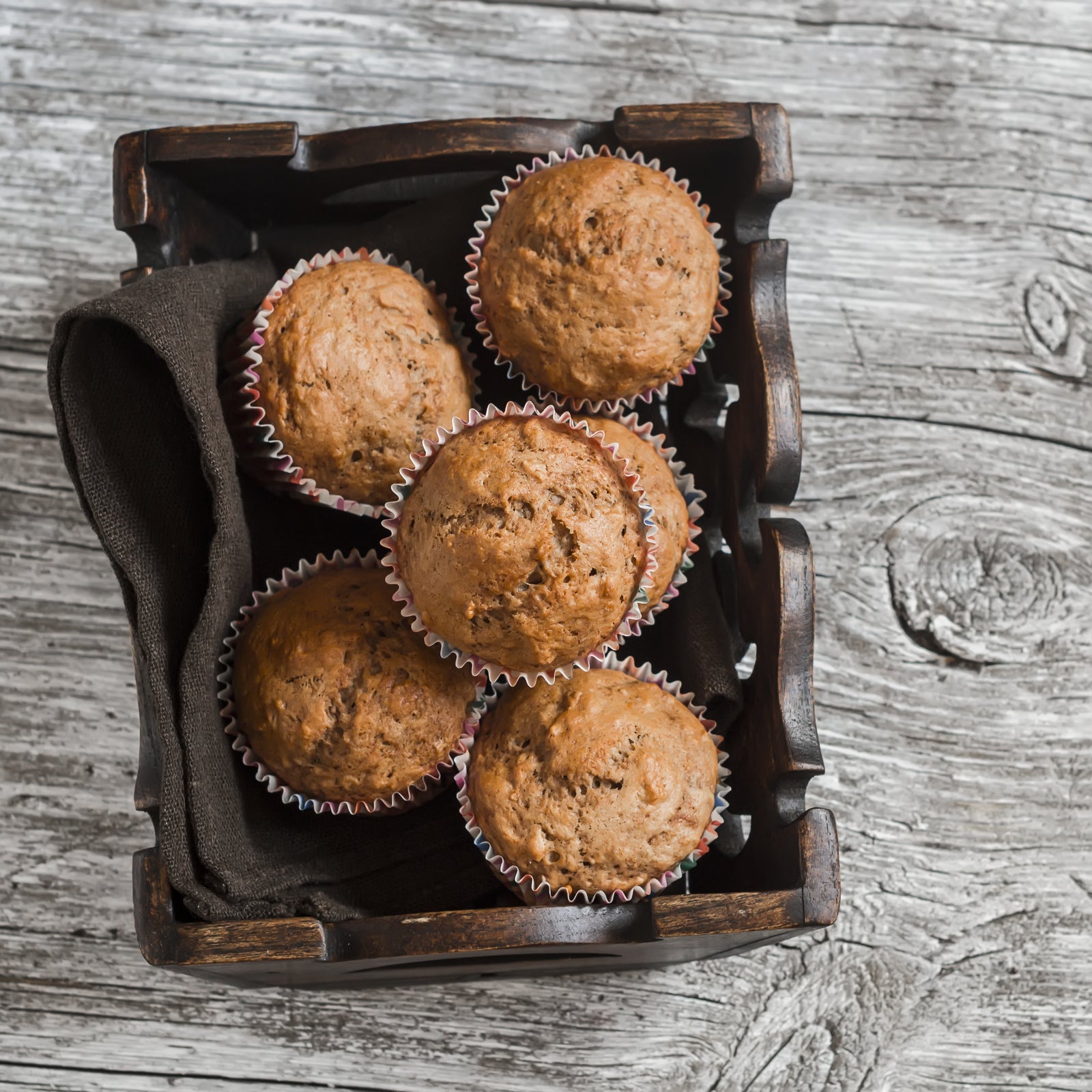 If you are like me, you always seem to have some ripe bananas on hand. I love to use them to bulk up my oatmeal or make banana cookies, but my favorite use for ripe bananas is banana muffins. I love them because I am always trying to reduce my food waste and thankfully banana muffins work best with those old, brown bananas.
This recipe incorporates one of my favorite Tea Sip tisanes (aka herbal), Chai Spice. The addition of the Chai Spice concentrate makes one of my favorite baked goods taste and smell even more amazing with hints of clove, cinnamon, ginger, and cardamom. This recipe would also work well with some of the other Tea Sip teas and tisanes, such as Spiced Peaches, Masala Chai, Apple Strudel, and Cacao.
Ingredients
Yields 12 muffins
Chai Spice Concentrate Ingredients
Wet Ingredients
1 cup mashed banana (about 3 ripe bananas)
2 eggs*
1 teaspoon vanilla extract
1/2 cup plain nonfat Greek yogurt**
Butter or cooking spray to grease muffin pan
Dry Ingredients
1 1/2 cups all purpose flour***
1 teaspoon baking powder
1 teaspoon baking soda
1/4 teaspoon salt
*Flax eggs can also be used. To make a flax egg, add 1 tablespoon of flax and 2 tablespoons of water mix together and let sit for 10 minutes. (This recipe calls for two eggs so double this portion.)
**Pumpkin purée or apple sauce would also work in place of Greek yogurt
***Coconut Flour can be used to create a gluten free option
You will also need
A Simple Brew Pot or Tea Infuser with Cup to make the Chai Spice concentrate - Shop Simple Brew Teapot
Tea Kettle (electric or stovetop)
Measuring spoons and cups
2 bowls
Fork
Whisk
Muffin Pan
 Instructions
First, make the Chai Spice concentrate:
Use kettle to heat 1/2 cup of water to boiling.
While water is boiling, add 5 tablespoons of Chai Spice to Simple Brew Pot or Tea Infuser.
Once the water has reached a boil, pour the water into the Simple Brew Pot or into your Cup with a Tea Infuser.
Steep for 5 minutes, then remove spices.
Now you have a Chai Spice concentrate!
Next...
Preheat oven to 350 degrees.
Transfer your Chai Spice concentrate to Bowl #1 and mix in 1/2 cup sugar.
Add the mashed banana, vanilla extract, and Greek yogurt to Bowl #1 and mix well.
In Bowl #2, mix your dry ingredients:  flour, baking soda, baking powder, and salt.
Gradually add dry contents of Bowl #2 to the wet ingredients in Bowl #1, mixing well until uniform.
Scoop batter evenly (~4 tablespoons) into well greased muffin pan.
Bake for 45-55 minutes or until a toothpick inserted into the center of the muffin comes out clean.
Allow muffins to cool and enjoy!
---