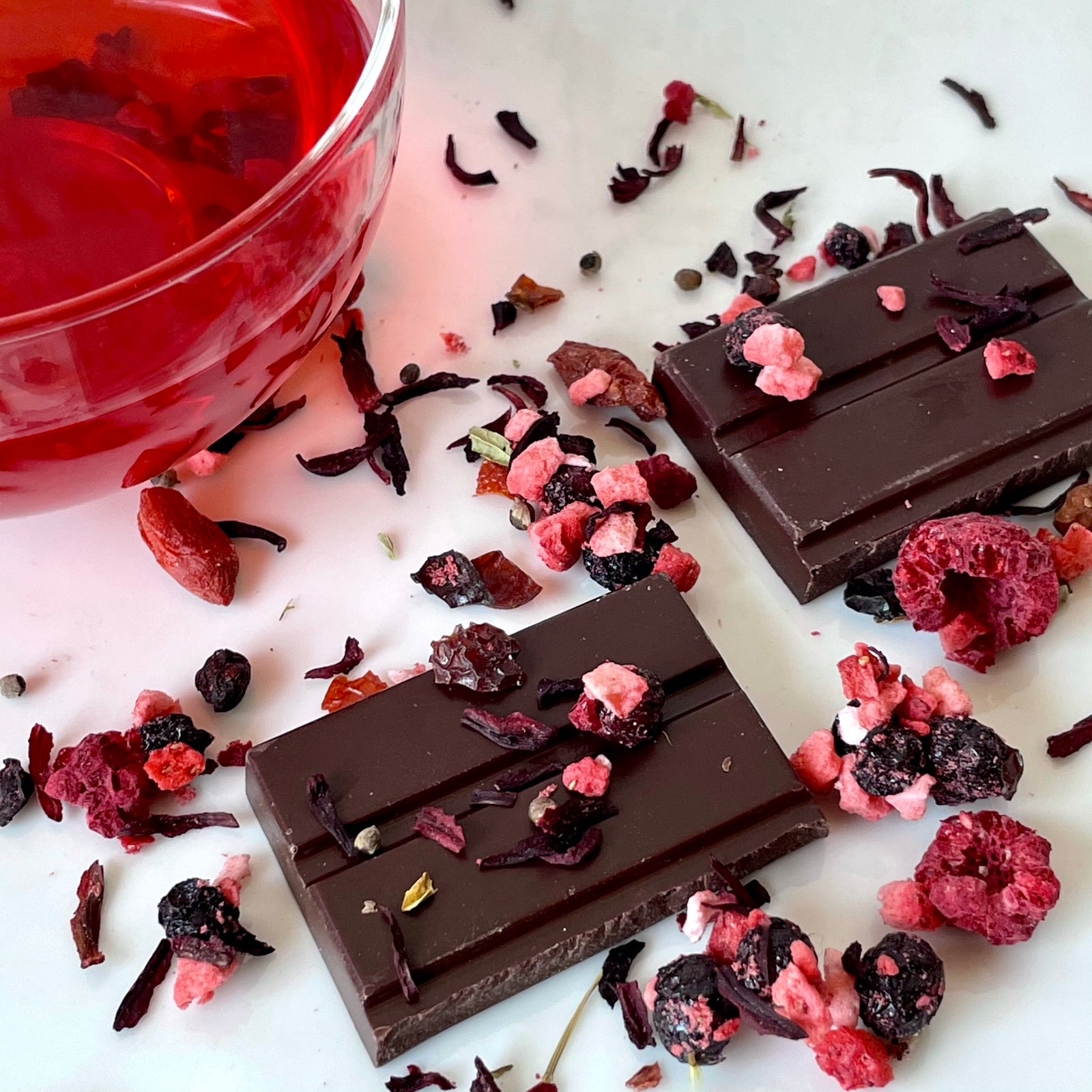 With all of the chocolate-filled holidays -- Valentine's Day, Easter, Halloween, Christmas -- we have been really wanting to explore the world of chocolate + tea! We decided that 2021 was the year and reached out to Texas based chocolatier, SRSLY Chocolate to begin our tasting journey. But before we dive into the pairings we fell in love with, let's talk basics on pairing tea with chocolate.
How to Taste Tea + Chocolate
EAT CHOCOLATE    First, take a bite of your chocolate and savor the flavor, letting it melt in your mouth and on your tongue.
DRINK TEA    Next, sip your tea and swish it around in your mouth letting it meld with the lingering chocolate flavor in your mouth.
PONDER THE DELICIOUSNESS    How do they interact? Did they compliment each other? Did they enhance certain characteristics? Was it awesome? Sweeter? Richer? Creamier? More balanced? Or was it all wrong? Take note of your experience. 
Tea + Chocolate Pairing Basics
When you are pairing anything, you want to taste for foods or beverages that compliment, enhance, or contrast in pleasant ways. Even if you think two flavors will work well together, there may be nuances in that particular food or beverage that change the game. For example, during our tea and chocolate tasting research, we found that because SRSLY Chocolate's White Chocolate is unfiltered (unusual for white chocolate), it did not always pair with the teas and flavors that we expected white chocolate to pair well with. Below are a few guidelines to get you started when pairing teas and chocolate, however, we always recommend following your taste buds to find out whether a tea and a chocolate should be truly paired together! After all, it's the tasting exploration that's the fun part!
WHITE CHOCOLATE
White tea, like our White Peony, is one of our favorite to pairings with white chocolate. However, we have found white chocolate is the easiest to pair with teas. It probably works 75% of the time. So if you are just getting started and feeling uncertain, just go white chocolate! Green teas like Jasmine, Clouds & Mist, and Sencha go nicely. Speaking of Jasmine, florals and teas with floral notes also are a delight with white chocolate - try Iron Goddess or Darjeeling. Roasty and nutty flavors also work well - try Hojicha or Narcissus. In addition to teas, white chocolate rocks with a whole range of herbals - check out Lemon Myrtle or Rose with white chocolate.
MILK CHOCOLATE
Pairing naked black teas like Ceylon, Yunnan, and Assam with milk chocolate always gets our stamp of approval. The creaminess of milk chocolate also leans itself to spiced teas and tisanes like Masala Chai or Ginger. Nutty and toasty flavors also work well - try out Genmai Cha. Milk chocolate also goes well with other chocolate (who doesn't like chocolate and chocolate?) and vanilla flavors.
DARK CHOCOLATE
A tricky pairing, especially depending on the level of cacao - the higher the percentage, the more bitter the chocolate. And that bitterness seems to be hard to work with when it comes to teas. Personally, we aren't a fan of dark chocolate and true tea (white, green, oolong, black, dark), however we think dark chocolate pairs really well with many tisanes (herbal infusions). Anything berry or orange tends to go well - try out hibiscus blends like Wild Berry and Blood Orange. Other winning dark chocolate pairings include Peppermint and Ginger Root.
ADDITIONAL NOTES ON BLENDED & FLAVORED TEAS & HERBALS
When you get into the world of blended and flavored teas and the vast varieties and flavor profiles of herbals...well it would take a book to cover all of these...and that still couldn't cover everything (check out
The Flavor Thesaurus
if you are interested in learning more about flavor pairings). Here are a few general flavors that tend to go well with chocolate:
Nuts like Almond, Hazelnut, Coconut (I know, I know, not truly a nut), Walnut, and Peanut
Fruits like Cherry, Raspberry, and Orange
Spices like Cinnamon, Chili, Cardamom, Vanilla, and Ginger
Herbs like Peppermint
Flowers like Rose and Hibiscus
And of course...more Chocolate! 
Ok, let's dive into what we paired with the handcrafted chocolates we received from SRSYL Chocolate.
SRSLY Chocolate + Tea Sip Tea Pairings
We received three chocolates from Austin, TX chocolatier SRSLY Chocolate:  Dirty White Unfiltered Chocolate,  30% Milk Chocolate, and Oko-Carib Dominican Republic 70% Dark Chocolate. Our team looked for tea and chocolate pairings that enhanced, complimented, or even contrasted. The results are our favorites. Check out the below, or if you are ready to get to tasting you can shop them here. Each chocolate has been perfectly paired with a tea to help draw out the best of both the chocolate and the tea.
WHITE CHOCOLATE + AMARETTO BISCOTTI WHITE TEA
Tea Sommelier tasting notes:  white chocolate intensifies the almond in this delicate white tea blend, and the combo draws out light sweetness in both the chocolate and the tea
MILK CHOCOLATE + TUXEDO TRUFFLE BLACK TEA
Tea Sommelier tasting notes:  milk chocolate smooths and balances the sweetness of this chocolate and vanilla black tea, creating a decadent, velvety flavor experience 
DARK CHOCOLATE + WILD BERRY HIBISCUS TISANE
Tea Sommelier tasting notes:  dark chocolate enhances the berry-ness of this brew, while the tisane helps mellow the natural bitterness of this chocolate
---