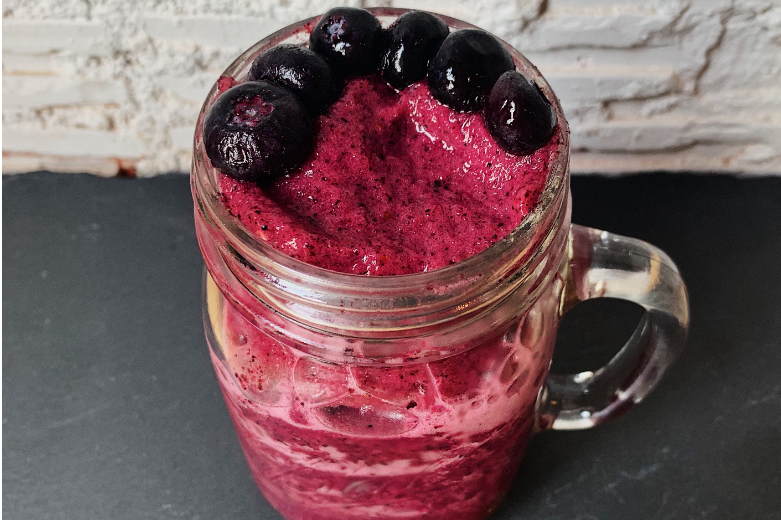 Smoothies make for the perfect addition to your morning routine. They are a great way to sneak some extra needed nutrients into a breakfast, lunch or midday snack. Not to mention it's liquid is so it's nice and easy on the stomach while being portable and easy to take with you throughout your day. To help step up your smoothie game, we put together this blueberry packed recipe with your favorite immuni-tea: Defend! This Caffeine free tea - also known as a Tisane - is already known for its health-kickin' herbs and spices that help boost your antioxidants & vitamin C intake. Paired with the other action packed ingredients like banana, blueberries and coconut milk in this recipe, it is sure to get you pumped up and ready for your day! 
Ingredients for smoothie
12 grams (3 Tablespoons) Tea Sip Defend - shop defend now 
3 oz 205 degree water
16 oz ice
1.5 cups of frozen blueberries 
1/2 cup coconut milk ( or milk of choice)
1/2 frozen banana 
2 Tablespoons lemon juice
You will also need
Directions
Step 1
Steep the 12g (3 tbsp) of Defend in the 3 oz of boiling water for 5 minutes. 
Step 2
Pour 16 oz of ice into the blender, then pour the Defend concentrate over ice once it has finished brewing.  
Step 3
Add blueberries, banana, lemon juice, and coconut milk into blender. 
Step 4
Blend ingredients until well combined & smooth. 
Step 5
For more tea infused smoothie options explore our other recipes blogs down below!