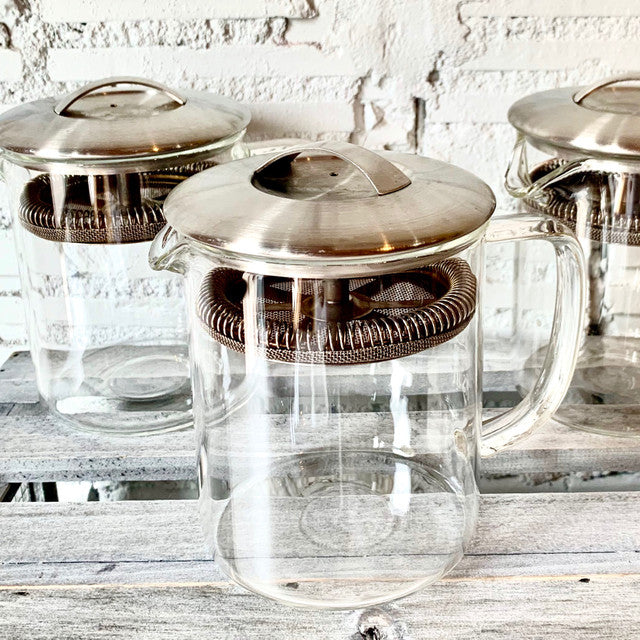 Basic Brew Wares
Not only are these some of our favorite teawares because they are simple to use for all tea drinkers, but they are also budget friendly for getting started. We recommend the Folding Handle Tea Infuser if you prefer hot tea by the cup and the 400 ml Simple Brew Teapot if you prefer iced tea by the cup, or think you would like to try resteeping teas.
Shop Folding Handle Infuser & Simple Brew Teapot.
Hot Water for Your Tea
Hot water is a key step in making tea (unless you are cold brewing). Many new tea drinkers try to microwave water or use stovetop kettles. These methods make tea drinking much too difficult. We highly recommend an electric water kettle because it heats water fast and safely, at minimum one that boils water, but a variable temperature kettle is best due to the variety of temperatures we brew tea. Also keep in mind that you will need a brewing vessel (like a mug with infuser or a teapot) along with a water kettle. It is a common misconception that you can use your teapot for heating water (unless you have our Nova Teapot + Kettle!).
Iced Tea, Cold Brew, To-Go, oh my!
Many new tea drinkers have a very specific way of drinking tea in mind - and we want you to embrace that! Plan on crushing iced tea every day or want to live that simple cold brew life? Check out the Simple Brew Teapot and Flash Chill Teamaker. Want to take your tea on the go? Check out the tea tumblers.
Got your teawares squared away? Stock up on tea and get to sippin'!
---