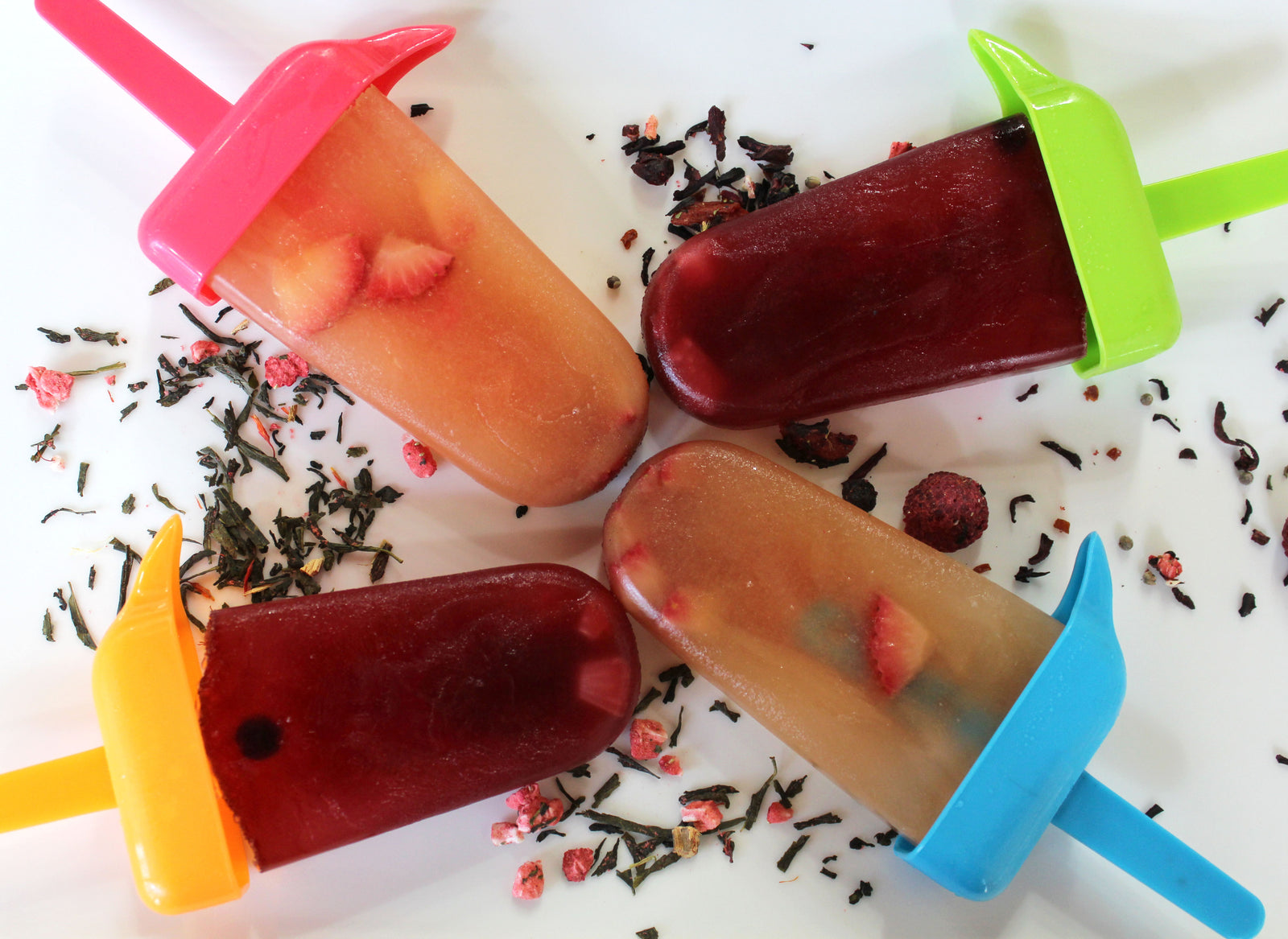 Summertime has arrived and it's time to tropic like it's hot with the ac on full blast, cool dips in the pool, and all the ice in the world. And nothing says summer like a refreshing ice cold popsicle. We've come up with the perfect way to cool down this summer….you'll be chillin' out, maxin', relaxin' all cool, while sippin' tea popsicles right by the pool.
Tea Popsicles
Supplies & Ingredients:
- 8 ounces water (heated to the proper temperature according to the bag – 185, 195, or boiling)
- Fresh or frozen fruits
- Popsicle molds
- *optional: any amount of honey or sugar for added sweetness
Directions:
1. Make a tea concentrate. As your tea is brewing, you can go ahead and add in your honey or sugar for added sweetness.
How to make a tea concentrate (don't worry it's easy!): It's made the same way you make iced tea (minus the ice). Double the amount of tea indicated under the hot brew instructions on the bag. For example, instead of 1 tablespoon per 8 ounces for Sunrise, we did 2 tablespoons per 8 ounces. Then follow the brewing instructions on the bag or on the website (i.e. for Sunrise we steeped for 2 minutes at 185 degrees). 
3. Drop your fresh or frozen fruits into the popsicle molds.
4. Pour your tea concentrate over the fruits and into the molds. Depending on the size of your molds you may not use all of the tea concentrate – just pour what's leftover over a cup of ice to enjoy a mini iced tea while you wait!
5. Place in the freezer overnight or until frozen.
6. Remove from freezer and enjoy! :)
You can combine any of your favorite teas and fruits to create tea popsicles. We enjoyed (also featured in our photos) Sunrise with strawberries and Wild Berry with fresh raspberries and blueberries! Try Purple Haze with grapes, Tropical Nectar with peaches, Pineapple Fresca with pineapple, or Beach Bum with mango...the choices are endless. Have fun coming up with your own unique tea popsicle combos!
We'd love to see what you come up with! Don't forget to tag us on Instagram using @teasiplife!
---