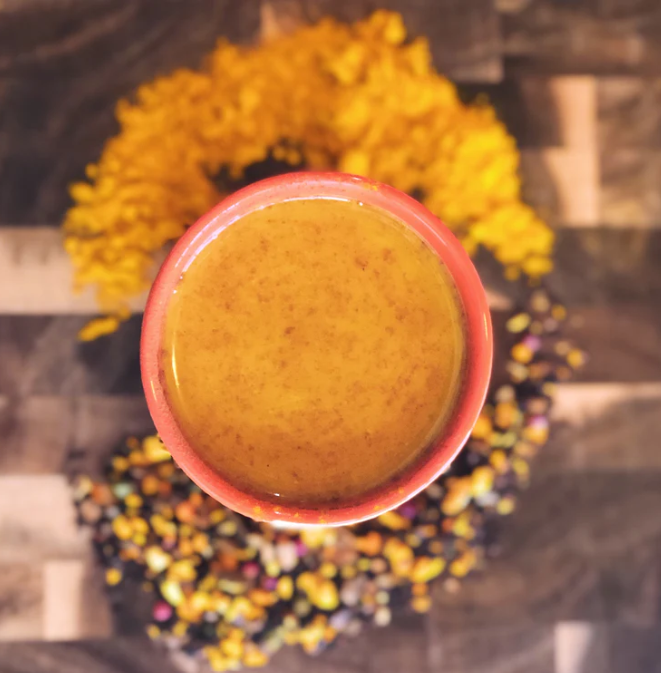 Has the turmeric craze reached you? Yes? And with good reason! In addition to being a powerful anti-inflammatory root, turmeric is high in antioxidants and helps support your health— including brain, mood, skin, and digestion.
We've included this ancient spice in multiple of our teas, including Masala Chai, Chai Spice, Moscow Mule, Defend. However, for a real turmeric treat, our Turmeric Tease is the bold brew for you. This tisane gets its kick from spicy turmeric, warming ginger root, and fiery chili. Peppery ingredients are balanced with honey sweet honeybush to create this invigorating, anti-inflammatory cup. We're taking hot tea for a hottie to a whole new level with this blend.
Want to level up your turmeric experience? Try whipping up our own Golden Milk Latte, with Turmeric Tease as the base. 
This creamy Golden Milk Latte is spicy with a hint of sweetness. It is the perfect treat to add to your daily routine morning, noon, or night. 
Tea sip tip
While the Golden Milk Latte recipe below is caffeine free add a shot of espresso to get a caffeination kick. 
Now I know what your thinking…
"Is a Tea shop recommending me to add coffee!?"
I'll let you in on a secret around here. We enjoy coffee from time to time because being a Tea person doesn't have to look a certain way.
Ingredients for Golden Milk Latte
12g (about 3 Tablespoons) of Tea Sip Turmeric Tease - Shop Turmeric Tease 
6 oz 205 degree water 
1 Tbsp Honey
6 oz Coconut Milk (or your milk of choice)
1 tsp Ground turmeric
A dash of cinnamon, ginger, Turmeric (optional)
You will also need
Directions
Step 1
Brew 12g Tea Sip Turmeric Tease in 6 oz 205 degree water for 5 minutes. 
Step 2
After 5 minutes, pour tea infusion into a cup (or remove infuser if your using your handy folding handle infuser) and add 1 Tablespoon honey.
Step 3
With a milk frother (We recommend this one), froth 6 oz coconut milk with 1 teaspoon ground turmeric powder.
Step 4
Step 5
Enjoy your Golden Milk Latte!
Tea Sip Secret
For a little extra pizzazz top off your golden milk latte with a sprinkle of cinnamon, ginger, or turmeric spice powder!