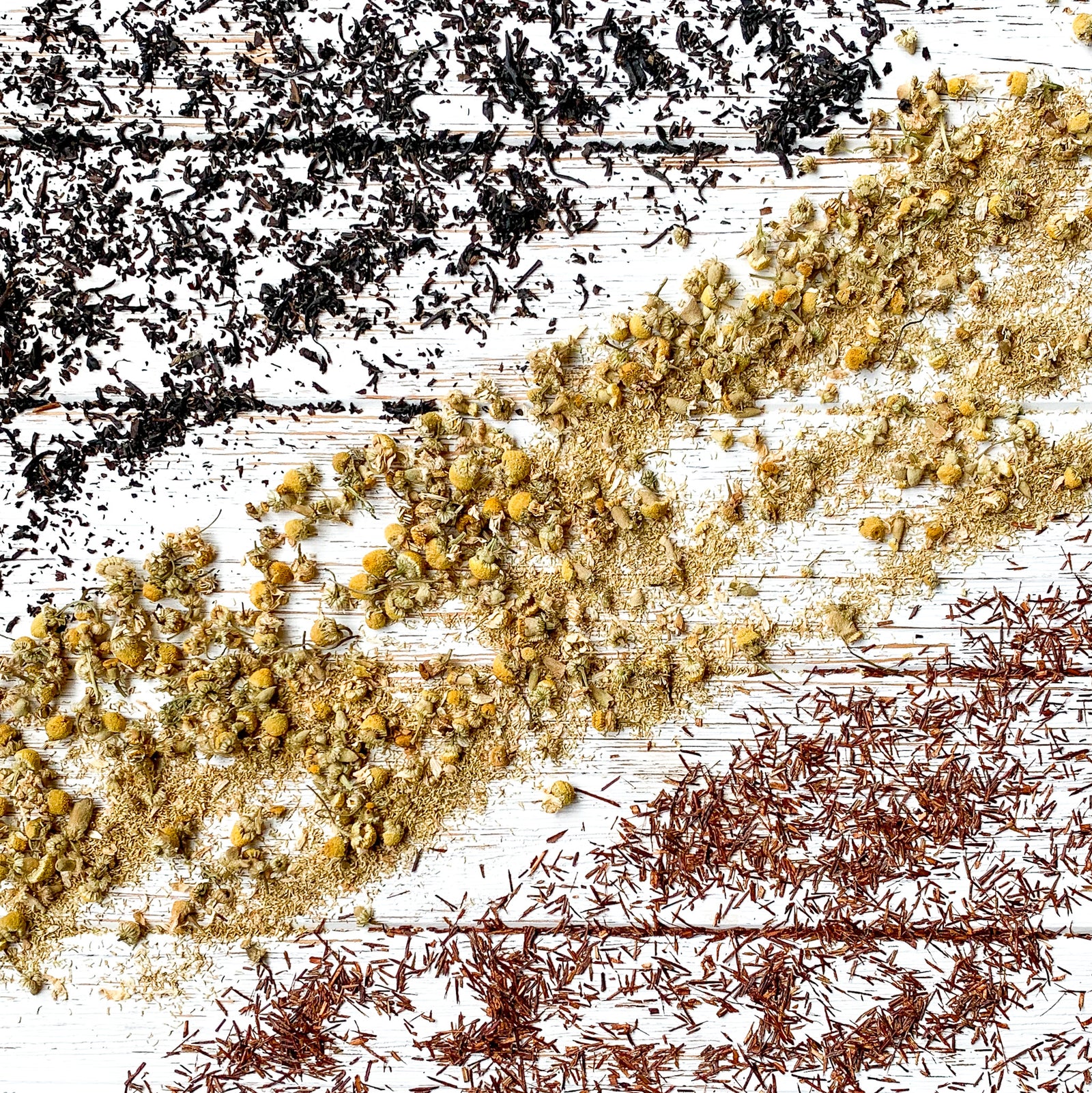 Tea ain't just for drinking! Teas and tisanes can also be used for body and hair treatments. That's right, tea can be used as a hair rinse! Tea can have various benefits for hair, and this hair rinse can be customized based on your hair color. Play around and see what works for you. Results can vary based on hair type and color. For me, this rinse is buying me time before I need to go full out and dye my grays. I can usually go 3 to 4 weeks between rinses and in between I can brew myself up a cup of tasty tea instead!
Ingredients
2 cups of water
4 tbsp of tea/tisane (see below for recommendations)
2 drops lavender essential oil
5 drops rosemary essential oil
By hair color:
My own special blend for strawberry blondes, like me:
3 tbsp Honeybush + 1 tbsp Hibiscus -
Shop Honeybush and Hibiscus Now
You will also need
Simple Brew Teapot or Infuser - Shop Simple Brew Teapots
Kettle or pot to boil water
Measuring spoons and cups
Jar with lid
Plastic cup (I reuse plastic containers from the grocery store) or spray bottle
Shower cap (optional)
 Instructions
First, bring 2 cups of water to boil water in your tea kettle or pot.
While the water is boiling, add 4 tbsp of the tea or tisane you are using to your teapot or infuser.
Once the water has reached boiling, carefully add it to your teapot or infuser and steep for 10 minutes.
After 10 minutes, transfer the infusion to a jar and allow it to cool.
Note: You can let it cool and then store in the refrigerator if you would like to wait a day or two to use the rinse.
Prior to using the herbal hair rinse, add the essential oils to the tea infusion and mix together.
Transfer the rinse to a plastic cup or spray bottle to use. From experience, let the rinse warm to room temperature before using, as a cold rinse straight out of the fridge can be a bit of a jolt!
Wash your hair normally with shampoo and rinse.
Once your hair is washed, apply the tea rinse evenly to your clean hair by pouring it out of the plastic cup or spraying it from the spray bottle. Massage the rinse into your hair and scalp, and let the rinse sit for up to 30 minutes. If you like, put a shower cap on around your hair while you wait. Note: Tea rinse will stain fabrics.
After 30 minutes, rinse your hair with lukewarm water until the water runs clear. Apply conditioner as needed. 
Style hair as you would normally.
---