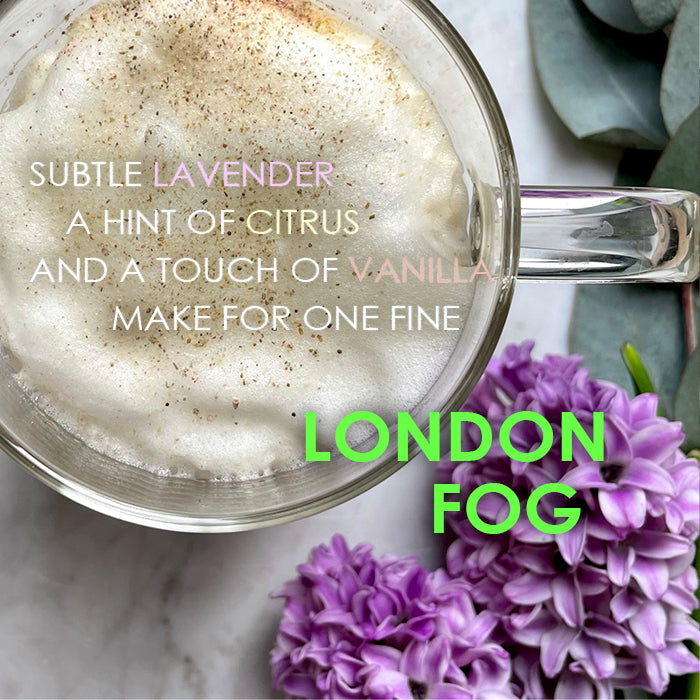 Do you ever need a hug in a cup? That's exactly the effect a London Fog has—a feel-good tea latte that is just what you need on a cloudy/rainy/sunny/perfect day. Our Tea Sip recipe blends our Grey and Sky Grey teas to maximize the citrus, lavender, and vanilla aspects of this delicious drink. 
Ingredients:
1.5 tablespoons (6 grams) Grey tea -

 

Shop Grey Tea
1.5 tablespoon (6 grams) Sky Grey tea - Shop Sky Grey Tea
6 ounces boiling water
1 tablespoon honey, or honey to taste
6 ounces vanilla soy milk or other plant-based milk
You will also need:
Instructions:
Measure out the Grey and Sky Grey and add to the simple brew teapot. Add in the honey.
Pour the boiling water into the teapot and allow the tea leaves to steep for 5 minutes.
When the timer is up, pour the tea concentrate into a large mug.
Rinse the tea leaves out of the body of your simple brew teapot and pour in the milk.
Heat milk the microwave for 30 seconds or until hot. Use the milk frother to froth your milk to your desired consistency.
Pour the frothed milk into the mug over the tea concentrate and enjoy!
Try It!
---