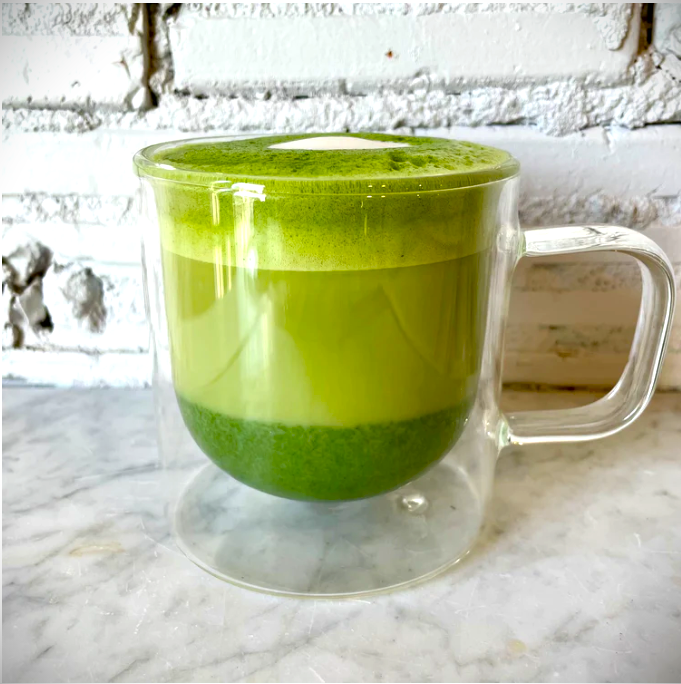 There are a lot of theories to the benefit of consuming matcha. It is said to be rich in antioxidants and beneficial plant compounds (To read more about matcha checkout our all about matcha blog). However for some the robust grassy flavor of Matcha can be hard to take, so we recommend making it into a matcha latte! You can still get a serious caffeine boost and the benefits of matcha - all you have to do is choose any plant-based milk you love and add a bit of honey...and you won't be able to just stop at one of these. We've tried to make this recipe approachable for beginners - any milk frothing wand will do. We like to think this Matcha Latte is the perfect pick-me-up! 
Ingredients for Matcha Latte
1/2 Tablespoon Matcha Powder -

Shop Matcha

6 Ounce water @ 185F
1 Tablespoon honey, or honey to taste
6 Ounces soy milk or your preferred milk option
You will also need
Simple Brew Teapot or large mug/Pyrex measuring cup
Milk frothing wand ( We like this one from ikea)
Directions
Step 1
Start by brewing water to 185 degrees. If you don't have a variable temperature kettle we recommend using 3 parts boiling water to one part cool water.
Step 2
While water heats, measure out Matcha and add to simple brew teapot or big mug. Add in tablespoon of honey.
Step 3
Pour 6 ounces of hot water into the simple brew teapot and froth with frothing wand. Mix until well blended and frothy.
Step 4
Pour mixed matcha concentrate into 16 ounce cup.
Step 5
Heat your preferred milk in microwave for 30 seconds or until hot. Froth milk with wand to your desired consistency.
Step 6
Pour the frothed milk into mug over matcha concentrate and enjoy your matcha latte!