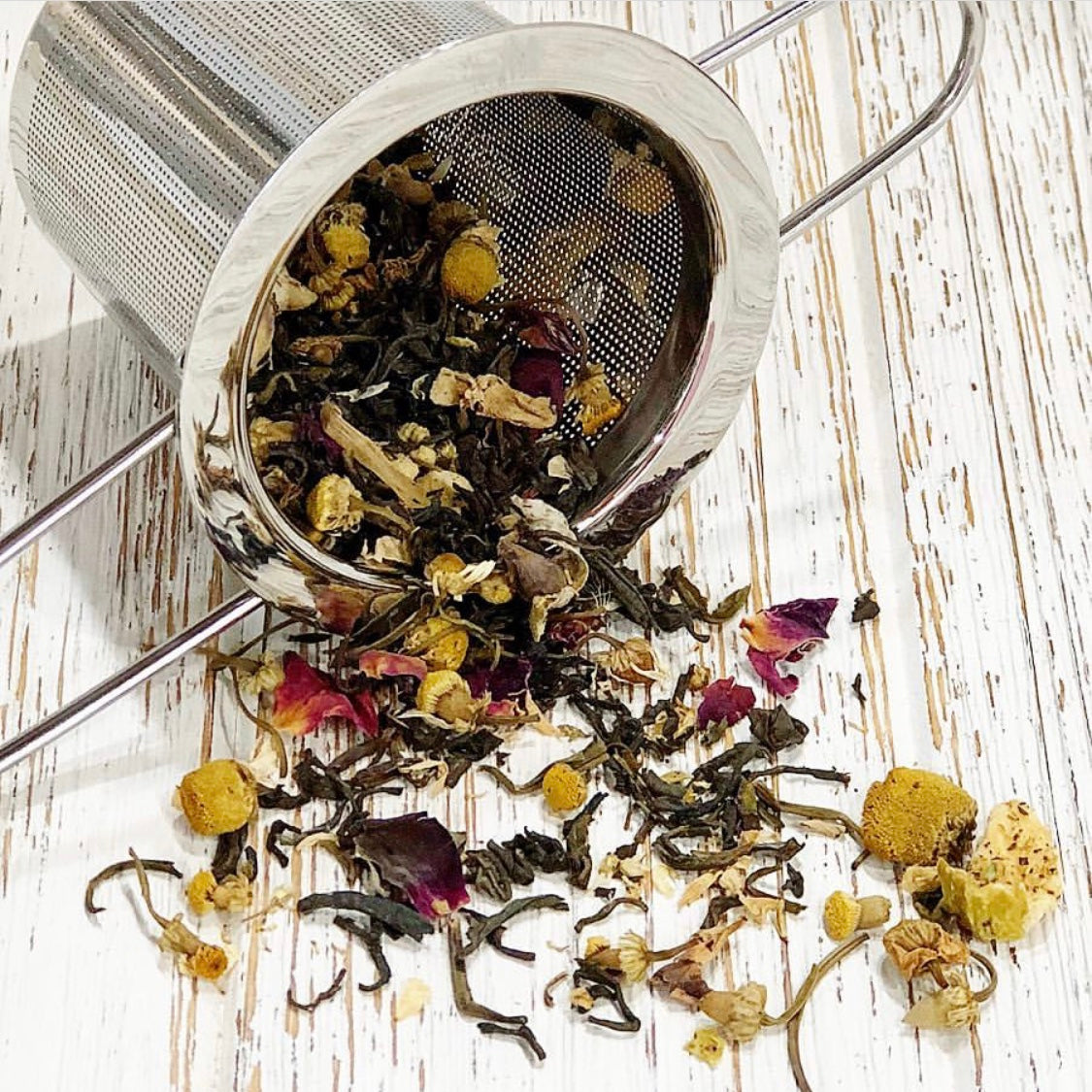 Let's hear it for the Moms!
This year has been a bit crazy, strange, overwhelming, [insert adjective here]... it all applies! Now, more than ever, it is important to celebrate the person we have on speed dial to help us sort out what meal can be made from our random assortment of freezer products. Or the person who is holding down her job, running the house, and trying to home school the kids. Moms everywhere work around the clock to take care of us, so this Mother's Day, give the mom in your life something special and unique. Give her the gift of loose leaf tea!
We've put together this gift guide of some of our favorite teas and teawares to make your shopping easy this year. If you need any other recommendations, give us a call at 346-701-8662 and our Tea Somms will help you pick something out.
Folding Handle Tea Infuser
Matcha
Looking for the ultimate pick-me-up for mom? Our loose leaf Matcha packs a punch! This ceremonial grade finely ground green tea comes in a 1 ounce tin ($29.95). Bonus - check out our Matcha Slushy and Dalgona Matcha recipes. Matcha Whisk sold in store only, call 346-701-8662 to purchase ($14.95).
 New Leaf Tea Mug
The New Leaf Tea Mug ($27.95) is a great gift option as it comes with a tea infuser and lid. The lid, which helps keep the tea at a consistent temperature while steeping, doubles as an infuser holder after the tea leaves have steeped. Shown here with our Lavender Honey black tea blend ($9.95 - $19.95).
Simple Brew Teapot 
Brew tea just for mom or for the whole crew with the Simple Brew Teapot. Available in two sizes, 400mL or 1000mL (pictured), this teapot makes loose leaf tea easy. This 1000mL Simple Brew is steeping our Rose tisane ($9.95 - $19.95).
Tea Sampler Pack 
If you're not quite sure what to get for Mom this year, try one of our Tea Sampler Packs ($19.95-$74.95). Each sampler pack comes with three, 1 ounce bags of tea which will make about 27 cups of tea in total. We love our You had me at Aloha sampler pack and Mom will too! 
Wildflower Honey
Looking for a gift as sweet as mom? Our Wildflower Honey is from Rogers, Texas and is sure to compliment mom's tastes. Available in 4 oz. and 1 lb. sizes for curbside pickup only - call call 346-701-8662 to purchase ($4.95-$12.95).
Capsule Infuser
If your mom is the hostess with the mostess, then she could use the Capsule Infuser! This stainless steel, fine mesh infuser will let mom make a large pitcher of tea effortlessly ($24.95). Shown here with our Blood Orange tisane ($9.95 - $19.95). Hint: check out our blood orange margarita recipe, mom will love this!
---