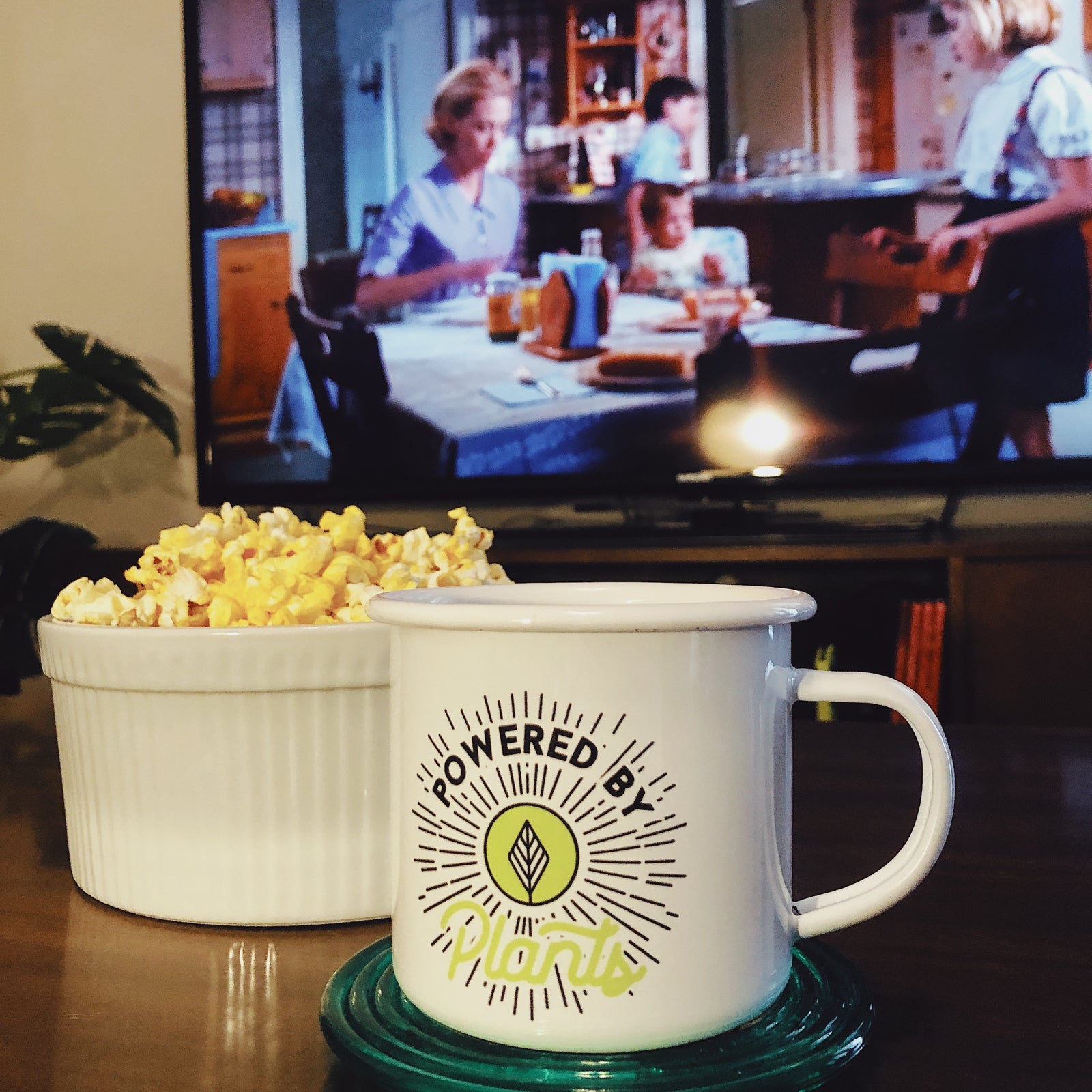 I don't know about y'all, but I love my couch. There's just something so comforting about sinking into the cozy goodness after a long day of work. I know what y'all are thinking "Wait... does she just sit and do nothing else on her couch...?" No way! I spend my cherished couch-time sippin' my favorite teas and watching a lot of TV shows and movies. Remember Netflix and chill? Imagine that, but G-rated and a lot more tea. You know and love tea + food pairings, but this is something on a whole new level. Tea + Netflix pairings. So get on your comfiest couch attire, heat up your variable temperature kettle, and let's get started.
Mojito 
13 Going On 30 is one of my favorite feel good movies of all time. The main character, Jenna Rink, is so honest and relatable. This 2004 film has a lot of laugh of loud scenes, but my favorite and most memorable is when Jenna is at a night club and tells the bartender, "I'll have a Piña Colada, not virgin. Wanna see my ID? Totally have it!"
So, our green tea blend, Mojito, is the perfect option to sip on while watching this movie. Nothing says hot summer nights quite like an ice-cold mojito. A refreshing mashup of sencha style green tea and traditional Cuban mojito flavors of mulled spearmint and lime, minus the alcohol, of course. 
Power Punch
GLOW is probably one of the more unique shows Netflix has to offer. Without giving anything away all I can say is the show revolves around a group of women who are trying to start a women's wrestling show. This drama series is set in 1980's LA and has a great balance of gut-wrenching jokes and empowering scenes.
Our caffeinated herbal blend, Power Punch, is a match made in heaven for the "Gorgeous Ladies of Wrestling." Energizing guayusa unites with zingy hibiscus, revitalizing spearmint, and dark forest berries to create this punchy cup. With great power, comes this great brew.
Candy Peach
Homecoming: A film by Beyonce AKA it's time to have a dance party in your living room. This documentary-style film honestly left me speechless. We all know and love Beyonce, is there really anything else to say?
Put a ring on it with our Candy Peach tisane. Sour raspberry, sugary peach, and tart hibiscus combine to bring you down memory lane. Each mouth-puckering sip will leave you s-peach-less!
Cowboy Breakfast
Mad Men is one of those shows that has a slow burn to it. Where it starts vs. where it ends is very different than you would expect. Its iconic 1960's setting is full of retro product placement, amazing outfits, and of course, a lot of cocktails.
Our Cowboy Breakfast is the perfect companion to this 7 season series!  Elegant, intoxicating Lapsang Souchong pine smoked tea is combined with a unique blend of single-origin teas from China and India result in a smoky, earthy, forest black tea blend.
Iron Goddess
Everyone knows Hello Kitty, but her unusual relative, Retsuko, from the Netflix series, Aggretsuko, is like nothing I've ever experienced. This adorable red panda works in an accounting office and faces constant frustration from her boss and coworkers. Once office hours are over, she lets out her emotions by screaming metal music. If you've ever worked in an office, you have to check out this series. It's oddly comforting and a great balance of absurd humor and real-world moments.
For this pairing I had to pick Iron Goddess- the name says it all! A bountiful floral aroma blooms into delightful toasted chestnut, sweet melon, and botanical flavors. Sip up and release your inner Wonder Woman... or in this case metal singer.
Bananas Foster
Y'all know here at Tea Sip we love witty banter, and Demetri Martin The Overthinker definitely doesn't disappoint. Go on an hour long comedic adventure full of one-liners and Martin's simple but effective drawings.
You could say his jokes are totally bananas... just like our tea pairing, Bananas Foster! Caramelized banana and sweet vanilla ice cream flavors combine with cinnamon spice to create a delicious flambeed bananas foster dessert delight in a cup. You'll go bananas for this brew!
Lemon Lime
Why have one Spider-Man, when you can have them all? Spider-Man: Into the Spider-Verse is great for the whole family and is full of entertaining surprises. The animation experiments with multiple styles and is truly incredible. Oh, and did I mention there's a Post Malone song!?
With our sour powers combined: our Lemon Lime blend is the perfect sidekick. Sweet lemon and tart lime combine creating a wonderfully balanced candied citrus cup. Get ready for this citrus super-brew duo to save the day.
Turmeric Tease
Dolemite Is My Name is the kind of movie that is best experienced going in blind. All you need to know is Eddie Murphy is at his prime in this unique dramedy!
This film is unexpected, just like our best-selling tisane, Turmeric Tease. Move over chai, there's a new hottie in town! This brew gets its kick from spicy turmeric, warming ginger root, and fiery chili. Peppery ingredients are balanced with honey sweet honeybush to create this invigorating, anti-inflammatory cup. Taking hot tea for a hottie to a whole new level.
Happy Sipping!
---
---