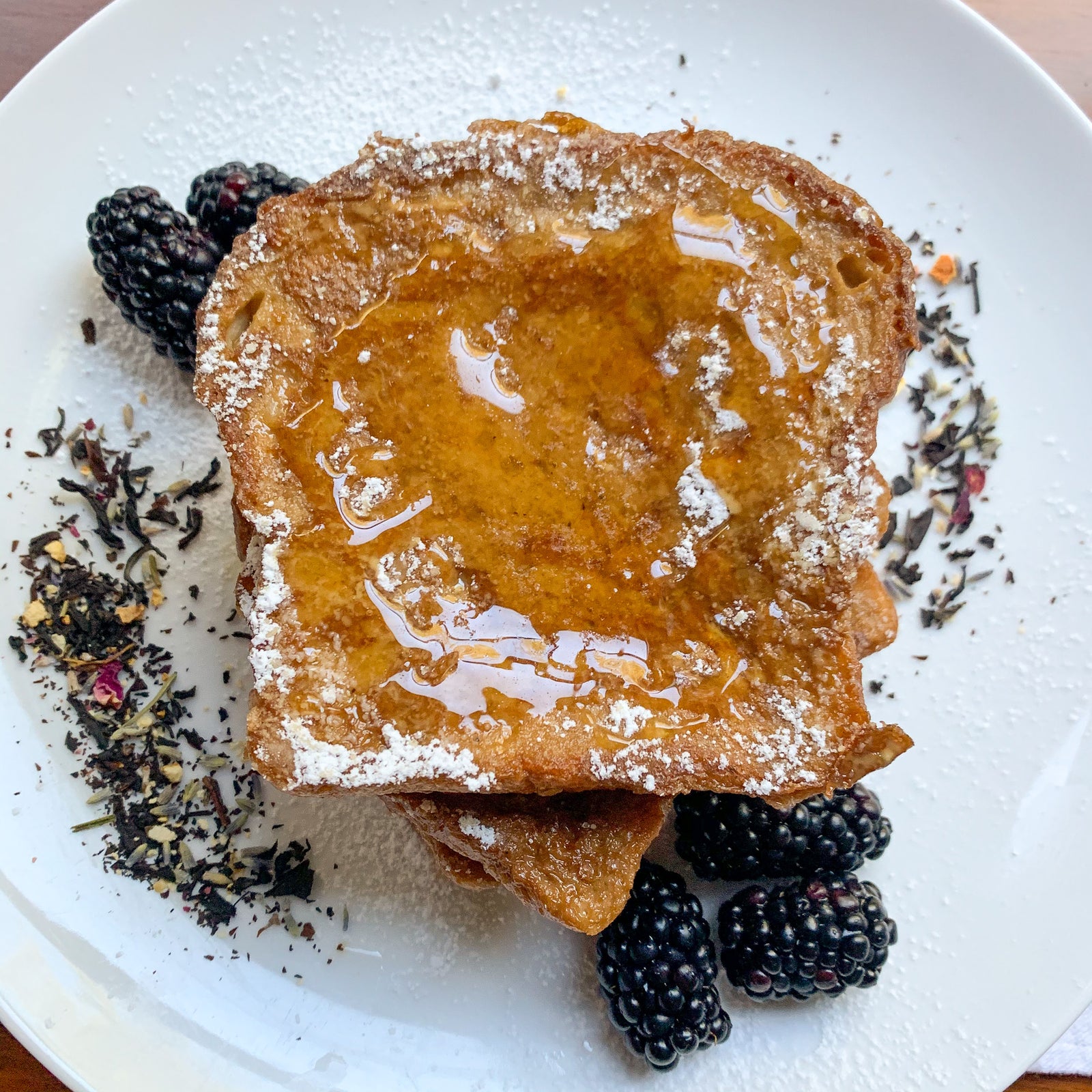 Sky Grey is consistently one of Tea Sip's top 10 blends because of its delightful lavender floral and vanilla notes. While this tea is delicious on it's own, we thought these flavors would make a mean french toast! In this recipe, you get the creamy vanilla notes with a light floral finish--and the final touch of maple syrup or honey is just divine. This recipe would also go well with Lavender Honey, Spiced Peaches or Apple Strudel.
Enjoy your french toast with a hot cup of Short Stack, a caffeinated herbal tisane that tastes like pancakes, Bayou City Breakfast, our classic English Breakfast Blend, or go big and double up on Sky Grey.
Ingredients:
4 tablespoons Sky Grey Tea - Shop Sky Grey Now
2/3 cup Soy Milk (or milk of choice)
1 Egg
1 teaspoon Vanilla Extract
4 pieces of Bread 
Cooking Spray (to grease the pan)
Maple Syrup or Honey 
You'll Also Need:
Measuring spoons and cups

Microwave safe container

Pan

Shallow bowl

Mesh sieve

Spatula

Fork or whisk
Instructions:
 Infuse the Sky Grey tea into the milk by creating a milk tea infusion:

Add the milk to your microwave safe container, and microwave on high for 1 minute 30 seconds or until the milk just starts to boil.
Add the Sky Grey tea leaves to the boiling milk and let steep for 5 minutes.
When the 5 minutes is up, pour the Sky Grey milk infusion through the mesh sieve and into the shallow bowl.

Add the egg and vanilla extract to the bowl and mix together with the fork or whisk. 
Spray your pan with cooking spray and place on the stove over medium heat.
Dip the first piece of bread, front and back, in the bowl with the Sky Grey milk infusion, and then place in pan. Repeat with the other slices of bread depending on your pan size.
When the first side of the bread is easily released from the pan, flip it to the other side and cook until the second side is easily released from the pan. The bread should turn a golden brown. 
Place cooked French Toast on a plate and add maple syrup or honey as desired.
---