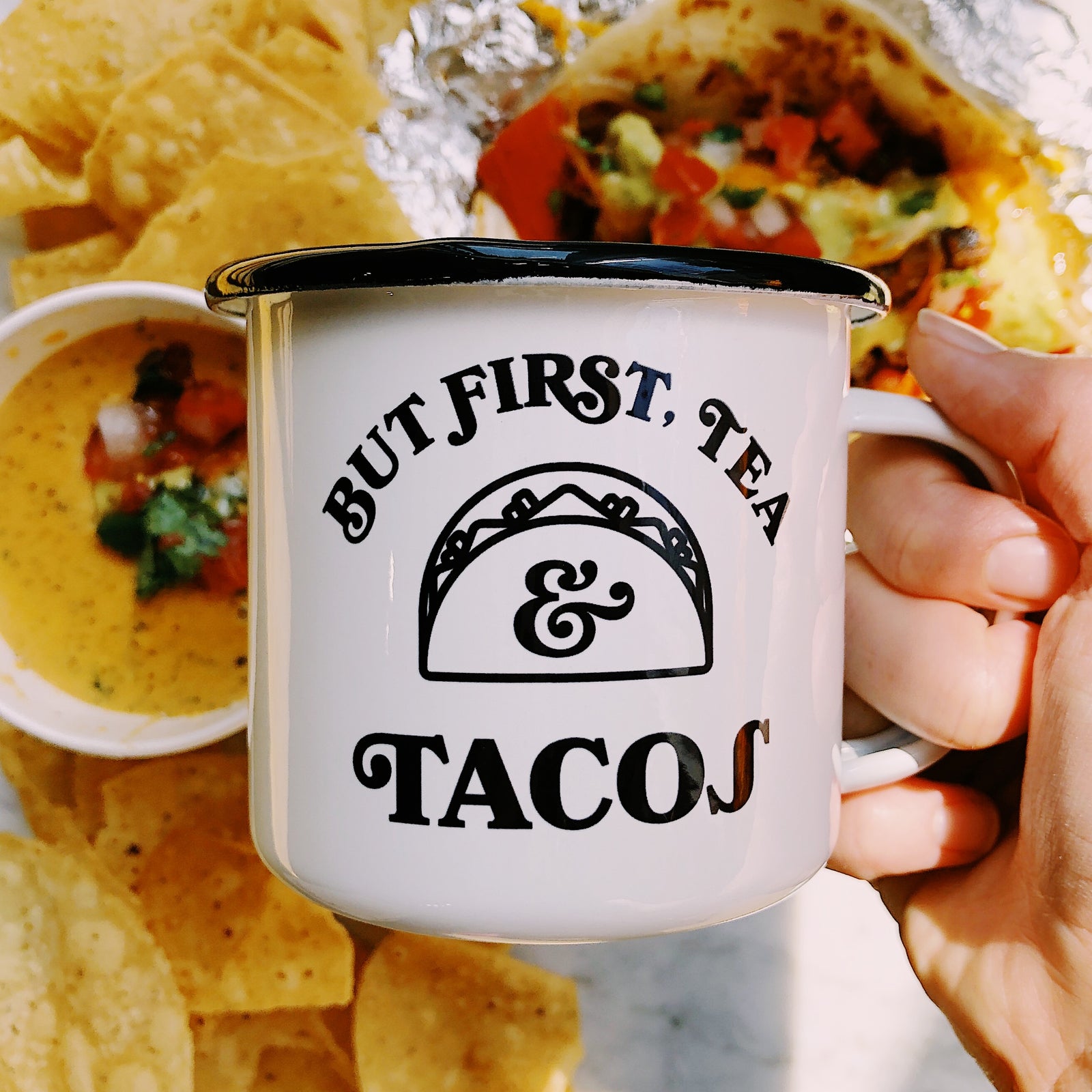 You can probably guess by now, we love tea. We especially love sippin' our favorite blends while munchin' on tasty food! Since our headquarters are in Houston, Texas, we have access to some amazing Tex-Mex. In honor of Cinco de Mayo, we thought we'd round up some of our favorite teas to drink along with our go-to Tex-Mex treats! For any out-of-towners, consider this your go-to guide for hittin' up the best Tex-Mex during your next Houston visit, after you swing by Tea Sip to say hello, of course!
Check out our staff faves:
Blood Orange Margarita & Chuy's
"I'm such a huge Tex-Mex fan... that it's so hard to choose. However, I'd have to go with my first love when I got to Austin, Texas for college - Chuy's. Chuy's started in Austin in the '80s and has been dishin' up big portions of cheap, delicious Tex-Mex in their cheeky, eclectic restaurants ever since then (also, love the shirts). They have massively expanded their operations around the US (As a small business owner I love to see a TX-based small biz that made it big! Respect.), and these days I hit up the one on Westheimer in Houston. I LOVE their fresh salsa - seriously, the chip is just to get this salsa into my mouth. And my favorite dish is the Chicka-Chicka Boom-Boom Enchiladas - roasted chicken, cheese, and their Boom-Boom sauce - roasted New Mexican green chiles, tomatillos, green onions & cilantro, blended with cheese. Heaven. Our Blood Orange Margarita is my new go-to with Tex-Mex, and especially for a good ol' Cinco de Mayo time."  - Jess
Wild Berry & Unos P'nches
"This is honestly one of the hardest choices I've ever had to make. Houston is an incredibly colorful city with mouth-watering cuisine to match its personality. Everywhere you turn there's an amazing Tex-Mex or true Mexican restaurant that is usually family-owned. My #1 choice is currently Unos P'nches Tacos, and I almost always order the same thing (which is pretty unusual for me). You could honestly close your eyes and pick anything from the menu and it would be amazing. I typically put their salsa verde on everything, and I usually start with their chips and salsa, then their Mexican quesadilla and end with a bang:  Nopalitos con Chorizo which comes with the perfect refried beans and rice. Our Wild Berry tisane served iced is a match made in heaven for this hearty meal. The sweet berry flavor balanced with tart hibiscus will keep you hydrated and have you grabbing a second glass!  Runner-ups:  Taqueria El Palomo, Andy's Home Cafe, Tampico, Laredo Taqueria, and the OG Ninfa's."  - Tessa
Dragonwell & Tacos Tierra Caliente
"Whenever I'm in the mood for tacos, I can always depend on the Tacos Tierra Caliente food truck on West Alabama, whether it be early in the morning or late at night! My favorite taco from them would be their Al Pastor taco in their corn tortilla, with their home made salsa verde, and a squeeze of fresh lime. It's juicy, tender, seasoned to perfection and it's only $1.50! I like pairing it with a hot cup of Dragonwell. With its buttery notes, it elevates the already scrumptious taco and the caffeine kick keeps me going."  - Long
Red Rooibos & Torchy's Tacos
"Working on 19th Street definitely has its perks, like being only minutes from a Torchy's Tacos! It's a place we frequent often, especially with queso that good. My go-to taco over at Torchy's would have to be the fried avocado taco on flour with diablo sauce. It's my fave hands down! With all that spice from the diablo sauce, I always need something cool and refreshing to soothe my mouth. That's why I brew up a nice iced Red Rooibos when indulging at my favorite taco spot. It helps keep me calm and collected. A Damn Good tea with a Damn Good taco, what could be better?"  - Claudia
Bayou City Breakfast & Alma Latina
"Let's be clear, I eat A LOT of Tex-Mex. One of my favorite restaurants in the Heights is Alma Latina—I love their friendly and causal atmosphere and their food is delicious. My favorite taco from Alma is the shrimp diablo taco. It packs a bit of a kick with the chipotle ranch, so I pair an iced Bayou City Breakfast with just a bit of honey to balance out the flavors. Iced Bayou City Breakfast is SO. GOOD. Honestly you can drink this with any Tex-Mex in Houston. Add some chips and queso, and you'll have the perfect meal!" - Claire
Hibiscus Lemonade & Tacos A Go Go
"Tacos A Go Go on White Oak keeps me a go-going with their Verde soft tacos! On a flour tortilla, these earthy veggie and black bean tacos topped with bright verde salsa are my go-to. Add a side of rice, chips and a mess of smokin' salsa.  Level up and pair it with iced Hibiscus Lemonade brewed with a dab of honey and a splash of Topo Chico (poured over the ice). Heaven is here on earth, my friends."  - Emily
Mango Tango & Fusion Taco 
"My favorite Mexican restaurant is Fusion Taco. I always order the tofu tikki masala with naan and an order of skinny queso. I think it would go quite nicely with an iced Mango Tango! I might have to get one today since it is also Taco Tuesday..."  - Andrea
Happy Sipping!
---
---