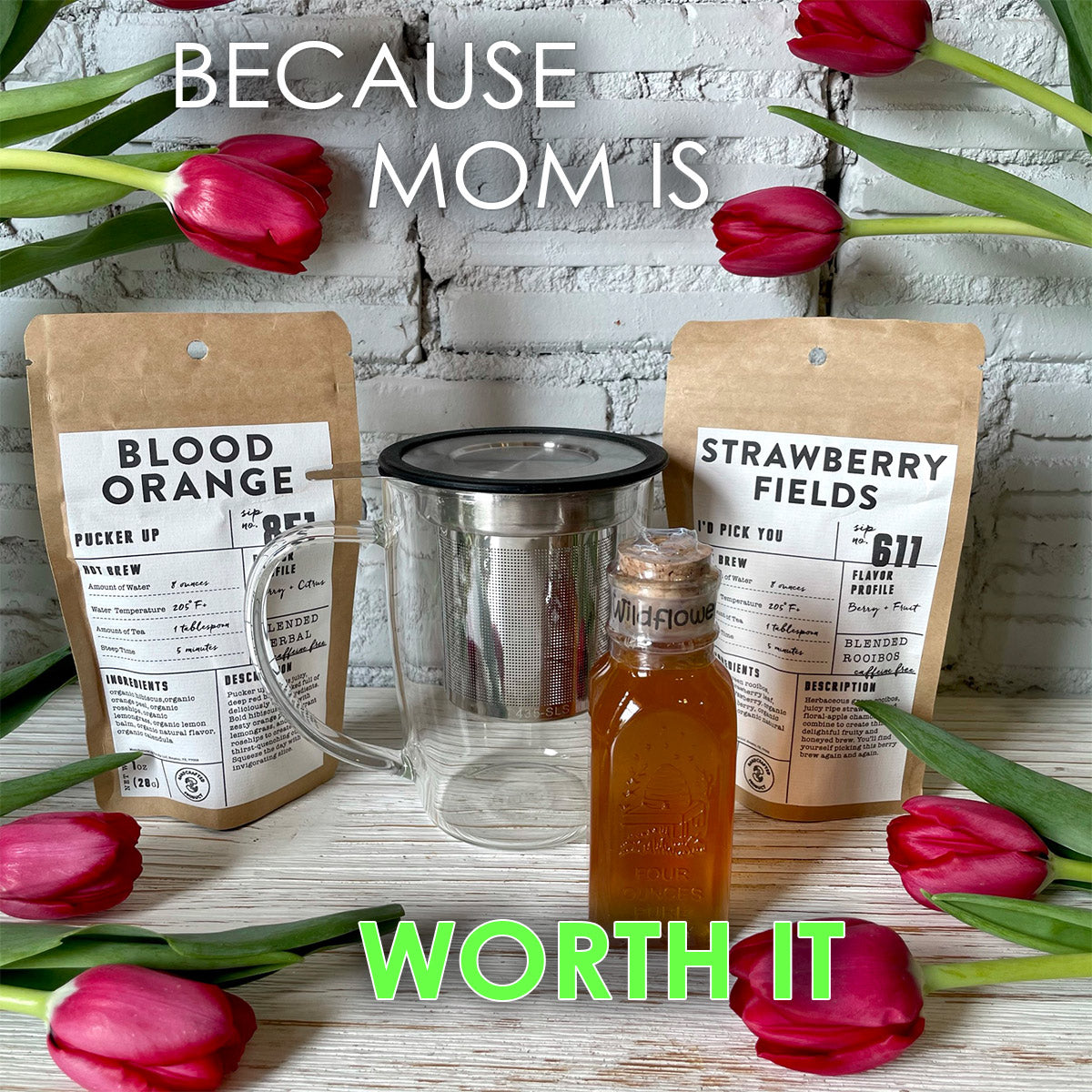 Whether she's near or far, we know you want to show your mom how special she is. Because after all, she must be perfect because she raised a perfect you! And even though she's amazing, we know every mom is special in her own way.

That's why we put together gifts that are easy, healthy, and, most importantly, thoughtful. Check out these 4 gift sets and put a beautiful smile on mom's beautiful face.

And since mom's worth it, we have one finishing touch. If you want to personalize your gift even more, write a message to mom in the comments box during checkout. We'll hand-write it on a note and send it along in the package!
The Mama On-the-go
Is your mama doing it all? Taking care of kids, making dinner, washing clothes, cleaning the house, workin' her other job (that's right she isn't just taking care of you!), and doing it all flawlessly? Treat her to a gift that jives with her lifestyle.




If mom's always going, she needs tea to go with her! Let her easily brew on-the-go with eco-friendly biodegradable tea filters that she can throw into any tumbler or mug to get the job done. And while she's at it, let her power up with some of our favorite caffeinated brews: Power Punch, Sunrise, and Lemon Lime.

Checkout the Mama On the Go Gift Set!
The Sweetest Mama
Does your mama go above and beyond for you and everyone she loves? She may just be the sweetest mama around. And what proper sweetest mama doesn't have a proper sweet tooth?




Let her indulge in chocolate this Mother's day with a chocola-tea bundle. Your mom will enjoy one of our favorite Tea + Chocolate pairings, expertly paired by our Founder and CEO Jess. Plus get one of our most functional and easy to use teawares, the Simple Brew Teapot. Limited quantities are available for this sweet gift!

Checkout the Sweetest Mama Gift Set!
The Chillaxing Mama
Has your mama been working so hard non-stop that it's time for a break? So many mamas haven't been able to get away for a little R&R since we've all been trapped at home. It's time to bring the TLC to her.


Strawberry Fields boasts a bit of chamomile to help with sleep and Blood Orange contains lemon balm to help combat stress. Oh and did we mention there's also a fabulous margarita recipe on the blog for Blood Orange? Plus, the New Leaf brew-in-mug included with this gift will make brewing her new comforting caffeine free blends a breeze. And she'll be able to top it all off with a lil' wildflower honey. Nothin' not to love about this gift!

Checkout the Chillaxing Mama Gift Set!
The Healthy Mama
Getting locked inside for a year hasn't been the healthiest experience for most of us...maybe a bit too much Netflix and snacks? But we are reemerging from our homes and it's time to get back to health! Has your mama jumped back on the healthy train with us? Or maybe she's stronger than we are and has always been livin' la vida healthy. This is the perfect gift for the mama who's all about that healthy lifestyle.

If mom loves to drink and eat anything green, treat her to our ceremonial grade Matcha packed full of antioxidants and caffeine. And don't forget the Matcha Whisk so she can whip up the perfect cuppa anytime. When she's ready to unwind, let her sip easy using biodegradable tea filters to brew up Defend, our caffeine free vitamin C plus antioxidant filled immunity boosting blend. Your mama's going to be feeling oh so fine!

Checkout the Healthy Mama Gift Set!
There's No Mama Too Far!
And don't forget that these gifts are great for both mamas near and far. For locals, shop online and choose in store pick up. We will pop your gift into a logo-less kraft bag with pink tissue, ready for gifting to mom! For shipping to mom, order now while there's time for the free shipping option.

Don't forget to write a gift note to your mom in the notes section at check out and we will hand write a note to your mama!

Happy Mother's Day!
---