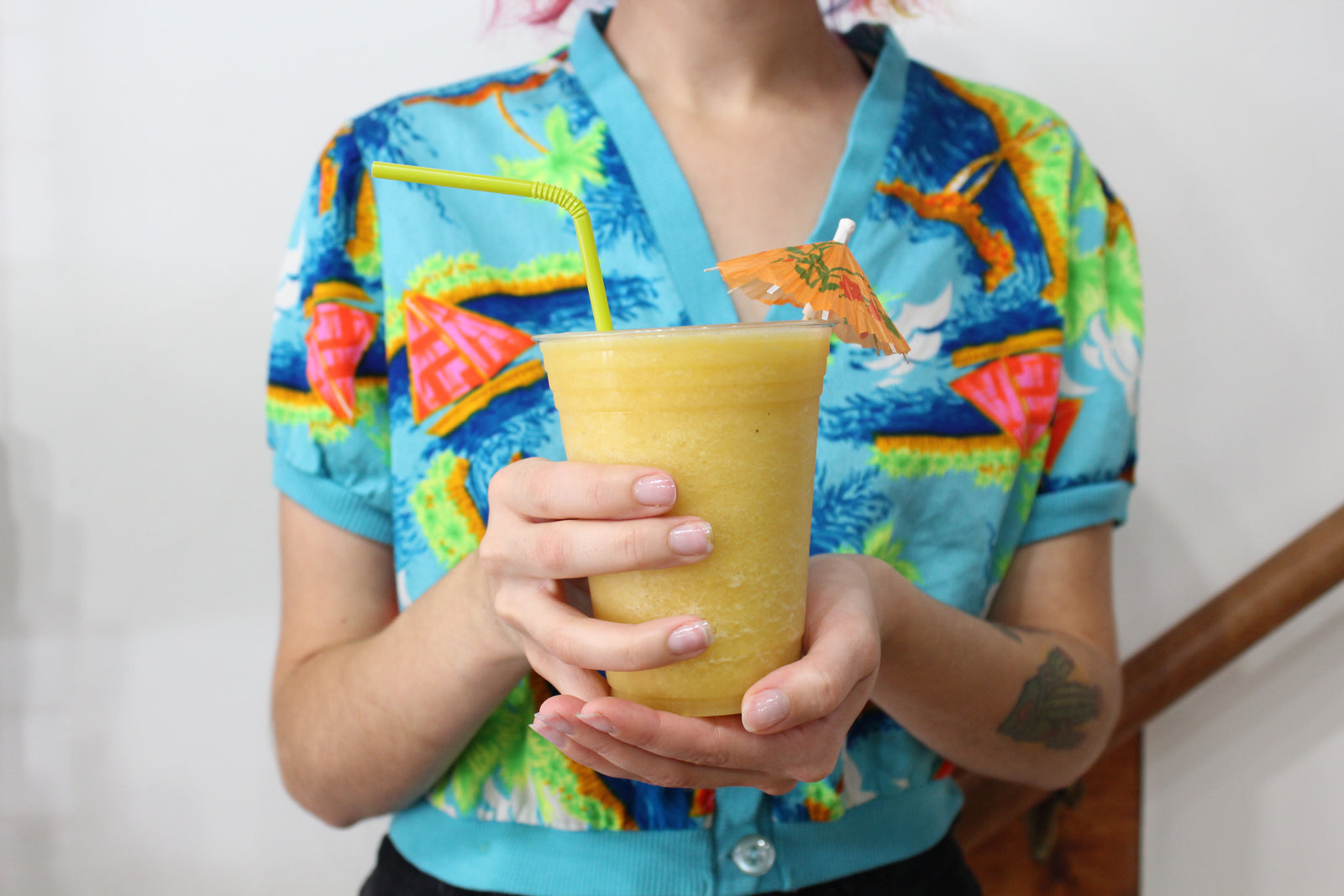 Happy National Smoothie Day!
Aren't smoothies the perfect way to start the day? I love my morning smoothie, and with summer's debut, it's the perfect time to break out the tropical fruits to ring in the summer times!
To help step up your smoothie game, we're here to show you how to make smoothies…with tea! Tea provides a fun change-up to your typical smoothie, plus it adds some much-needed caffeine to your morning routine.
Here's the 16 oz. recipe we whipped up as a team for this special smoothie day:
Beach Bum Tropical Smoothie
Tools & Ingredients:
   -½ cup Beach Bum tea concentrate (2 tablespoons Beach Bum loose leaf tea steeped in 1 cup water)
   -1 cup ice
   -¼ cup mango (frozen)
   -¼ cup pineapple (frozen)
   -½ banana (sliced, not frozen)
   -Blender
Instructions:
1. How to make a tea concentrate (don't worry it's easy!): It's made the same way you make iced tea (minus the ice). Double the amount of tea indicated under the hot brew instructions on the bag. For example, instead of 1 tablespoon per 8 ounces for Beach Bum, we did 2 tablespoons per 8 ounces. Then follow the brewing instructions on the bag or on the website (i.e. for Beach Bum we steeped for 3 minutes at 185 degrees). For this recipe, we'll be using a ½ cup of tea concentrate (so if you brew 8 ounces you could make two 16 oz. cups!)
2. Add your ice to the blender and pour over your tea concentrate.
3. Add your fruit! We used ½ banana (sliced) with ¼ cup mango and ¼ cup pineapple (both frozen) to give more tropical flavors to our smoothie but feel free to get creative with it. Add in some peaches or papaya or even some orange slices!
4. Next, blend until smooth and serve!
This recipe is easy to adjust for your favorite tea or tisane! Grab your fav, make it a concentrate, pick your fruits, and blend until smooth. The possibilites are endless so have fun and send us your photos (hello@teasip.com) or tag us on social media (@teasiplife) because we'd love to see your tasty tea smoothie creations!
Here's a few to get you started:
    -Purple Haze with blueberries and blackberries
    -Sunrise with strawberries and oranges
    -Tropical Nectar with bananas and peaches
Happy sipping!
---