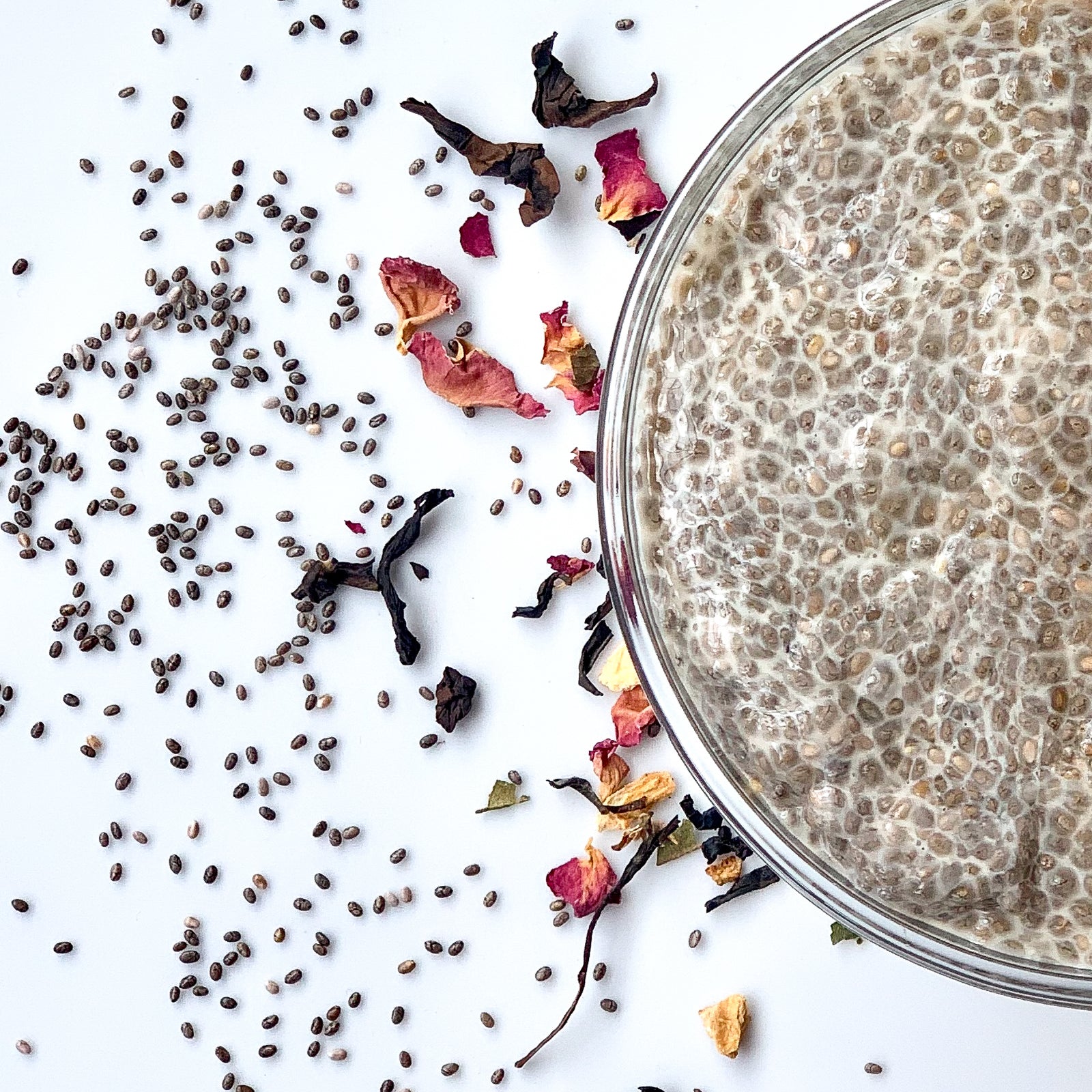 Who's ready for some power-packed pudding? Not only does this chia seed pudding taste great but it's also good for you, with those chia seeds boasting Omega-3s, fiber, protein, and calcium. We particularly love chia seed pudding because it's so easy to make. Enjoy this tasty treat for breakfast, as a snack, or for dessert!
This recipe is made with Turkish Delight, a smooth, citrus and floral oolong blend. It pairs perfectly with wildflower honey, which brings out the florals of the Turkish Delight even more! We highly recommend the wildflower honey from Walker Farms in Rogers, TX, which we also sell at the shop.
Feel free to try this recipe with other teas and tisanes you love! We plan on trying out Sky Grey and Cacao next—comment below with any teas you try out and love!
Ingredients
4 tbsp of Turkish Delight tea - Shop Turkish Delight Now
4 tbsp chia seeds
3/4 cup almond milk or milk of choice
honey or sweetener of choice to taste (we recommend 2 tbsp)
You will also need
Simple Brew OR Alternative Brewing Device - Shop Simple Brew Teapot

1/4 cup water at 195°F

Timer set to 4 minutes
Jar with lid (or any container with a lid)
Instructions
Tea Concentrate
Place 4 tablespoons of Turkish Delight tea in the brew pot or infuser in a shallow cup or bowl.
Add 1/4 cup of heated water to the brew pot or infuser. Remember that if you don't have a variable temperature kettle you can just add a splash of cool water to bring the boiling water temperature down to 

195

°

 F.

Steep the tea for 4 minutes.
After the tea has steeped, remove the leaves and pour the tea concentrate into the jar.
Add honey to the hot tea concentrate and stir to dissolve.
Let the tea concentrate cool.
Chia Pudding
Once the tea concentrate has cooled, add in almond milk and chia seeds. Mix well.
Let sit for 2-3 minutes then mix again until you see no clumping in the chia seeds.
Cover the jar with lid and store in fridge overnight or for at least 2 hours. (note: 8 hours is ideal!)
Garnish with fruit if you desire and enjoy your healthy treat!
---