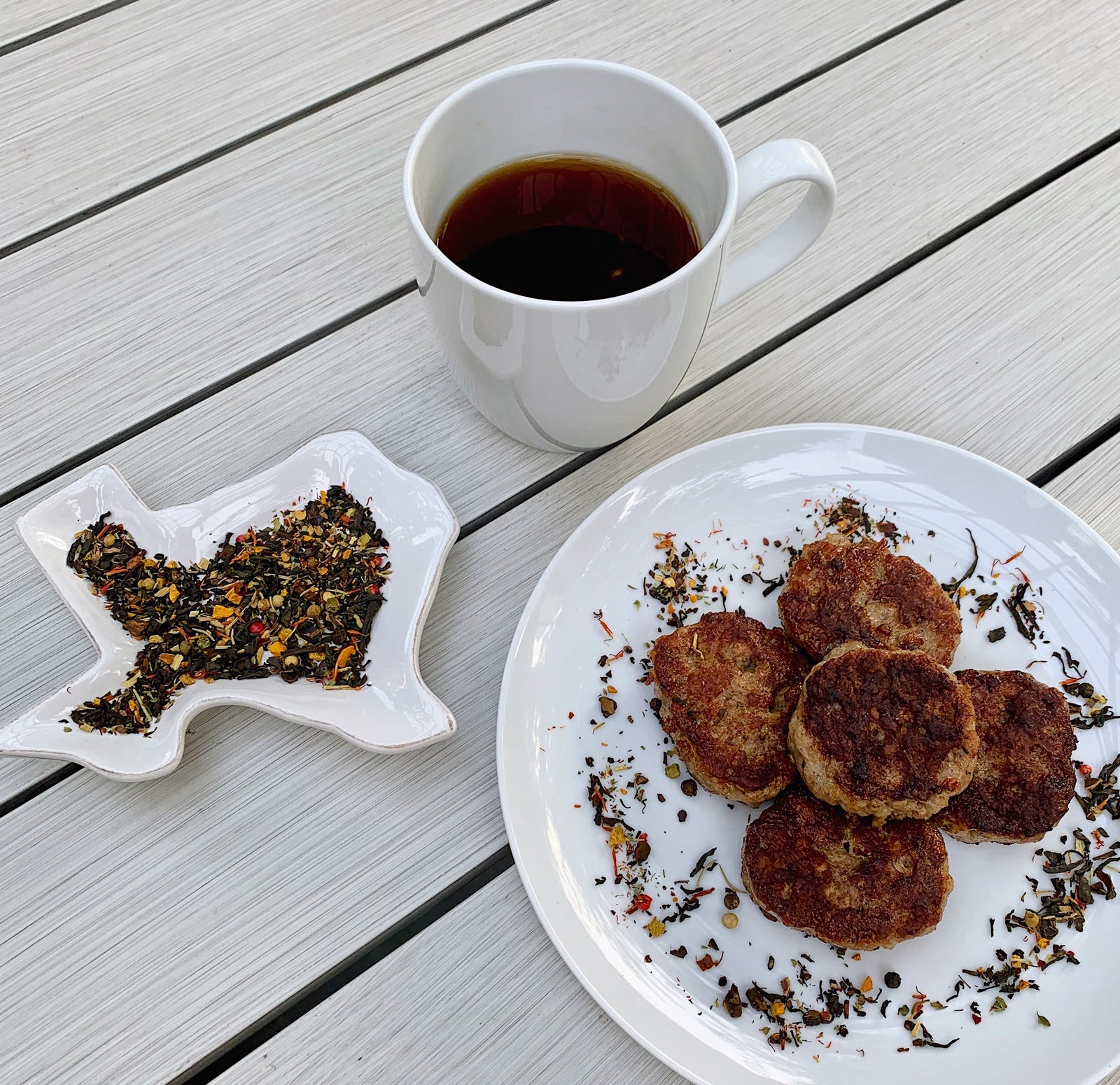 We hear breakfast is the most important meal of the day! Forget about store-bought breakfast patties and up your breakfast game with our Texas BBQ black tea blend. This tasty Texas BBQ infused breakfast sausage recipe is sure to give you a little extra caffeine boost with your morning cuppa.
Ingredients
1 lb (16 oz) Ground Pork
5 tbsp (20 g) Texas BBQ - Shop Texas BBQ Now
1/2 tsp (2.5 g) Salt
1 tbsp Olive oil
You'll also need
Pan or skillet (we used a cast iron skillet)
Mixing bowl
Spatula
Mortar and pestle OR small blender
2 Plates
Paper towel
Instructions
In the mortar and pestle OR small blender pour in the Texas BBQ and grind OR blend until the tea becomes a powder.
Place the ground pork, Texas BBQ powder, and salt into the mixing bowl and stir with the spatula to combine.
Begin forming the pork into 2 oz sized patties, the size of a large meatball or slider patty. This makes it easier so you can keep your hands clean and don't have to form them while cooking. Place the formed sausage patties on one of the plates.
Place your pan on the stove top on medium heat and add the olive oil. Fold your paper towel on top of the second plate. This is to absorb the extra oil once the patties are finished cooking.
Once you see little bubbles forming in the pan, carefully place the patties in the pan. Cook the patties until they are dark brown on both sides, about 3 minutes on each side, or until the internal temperature is 160° F. Remove the patties from the skillet place on top of or between the paper towels on the plate. 
When you are ready to serve, simply remove the patties from paper towel and enjoy!
---