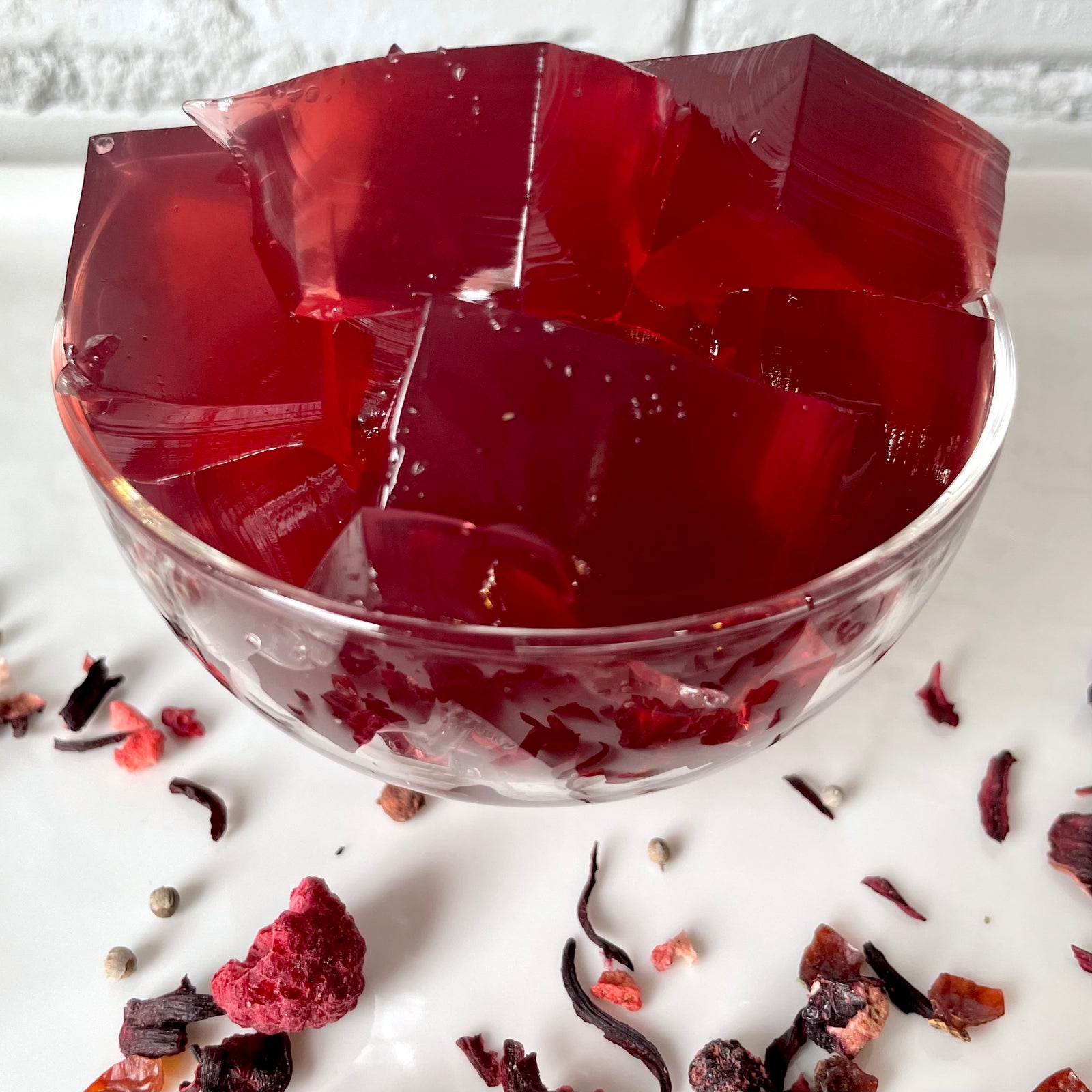 Change up your dessert game with a tea-riffic spin on this nostalgic treat! We concentrated one of our favorite berry blends and used unflavored gelatin to create this tea based jello. Swap in one of your favorite teas or tisanes to achieve the ultimate fun but jiggly dessert. 
Ingredients:
8 tablespoons (32 grams) Wildberry, divided into 2 tablespoons (8 grams) and 6 tablespoons (24 grams) -

 

Shop Wildberry
4 cups of boiling water divided into 1 cup and 3 cups
1/4 cup sugar
2 tablespoons unflavored Gelatin (we used Knox brand gelatin)
You will also need:
Simple Brew Teapot (we recommend the large one!) -

 

Shop Simple Brew Teapots 
A jar for cooling 1 cup of Wild Berry, and a medium sized bowl for mixing
A Jello mold or 8x8 or 9x13 glass pan
Instructions:
First, make 1 cup of concentrated Wild Berry in order to mix the gelatin. Add 2 tablespoons of Wild Berry to your Simple Brew and pour in 1 cup of boiling water. Let the Wild Berry steep 5 minutes.
When the 5 minutes is up, pour the Wild Berry infusion into a jar or bowl and let cool in the refrigerator. This is key in order to mix the gelatin and reach max jello jiggles.
When the 1 cup of Wild Berry is cool, its time to make the rest of the mixture. Add the remaining 6 tablespoons of Wild Berry to the Simple Brew (or put this in a 4 cup measuring cup or other mixing bowl if you don't have a Simple Brew).
Pour the remaining 3 cups of water over the Wild Berry leaves and let steep for 5 minutes.
While the 3 cups of Wild Berry is steeping, take the cooled 1 cup of Wild Berry and stir in the 2 tablespoons of gelatin. Let this mixture sit for 3-5 minutes. 
When the 5 minutes is up, pour the 3 cups of infused Wild Berry into your mixing bowl. Mix in the 1/4 cup of sugar until it dissolves. You can also swap in any other favorite sweeteners to taste.
Next, slowly add in the 1 cup of Wild Berry/gelatin mixture and continue stirring until everything is combined. 
Pour your mixture into a jello mold or glass pan, and transfer to the refrigerator for at least 4 hours. 
---